'Brother' - NEEDTOBREATHE Acoustic Performance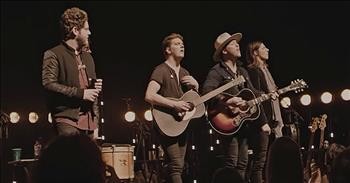 NEEDTOBREATHE stuns with this acoustic rendition of their hit song 'Brother.' This live performance was filmed during the acoustic leg of the 2017 ALL THE FEELS TOUR. It truly showcases the talent and vocal range of this incredible band.

'Brother let me be your shelter
Never leave you all alone
I can be the one you call
When you're low
Brother let me be your fortress
When the night winds are driving on
Be the one to light the way
Bring you home'
NEEDTOBREATHE is a South Carolina band with a unique mix of gospel, soul, and rock music. Their music serves as an encouragement to others while sharing lyrics and meaning that come from personal experience.
'I ain't made for a rivalry, I could never take the world alone
I know that in my weakness I am stronger
It's your love that brings me home'
This powerful song was inspired by the real life relationship between brothers, and band mates, Bear and Bo Rinehart. Our siblings are such an important part of our lives. Like our Father in Heaven, they provide us comfort when we are down and love at all times. We should cherish these special people placed in our lives and remember to treat this relationship with tenderness and care. What a beautiful song from such a talented band. This is definitely a performance that you do not want to miss from NEEDTOBREATHE.
Matthew 12:50 "For whoever does the will of my Father in heaven is my brother and sister and mother."
needtobreathe

3233 views

2019-01-03T10:55:24

source: NEEDTOBREATHE NEEDTOBREATHE stuns with this acoustic rendition of their hit song 'Brother.' This live performance was filmed during the acoustic leg of the 2017 ALL THE FEELS TOUR. It truly showcases the talent and vocal range of this incredible band.

'Brother let me be your shelter
Never leave you all alone
I can be the one you call
When you're low
Brother let me be your fortress
When the night winds are driving on
Be the one to light the way
Bring you home'

NEEDTOBREATHE is a South Carolina band with a unique mix of gospel, soul, and rock music. Their music serves as an encouragement to others while sharing lyrics and meaning that come from personal experience.

'I ain't made for a rivalry, I could never take the world alone
I know that in my weakness I am stronger
It's your love that brings me home'

This powerful song was inspired by the real life relationship between brothers, and band mates, Bear and Bo Rinehart. Our siblings are such an important part of our lives. Like our Father in Heaven, they provide us comfort when we are down and love at all times. We should cherish these special people placed in our lives and remember to treat this relationship with tenderness and care. What a beautiful song from such a talented band. This is definitely a performance that you do not want to miss from NEEDTOBREATHE.

Matthew 12:50 "For whoever does the will of my Father in heaven is my brother and sister and mother."
Today's Devotional
A Prayer for Awareness of Sin - Your Daily Prayer - October 21
Top Artists