'Revive Us Again' Gaither Vocal Band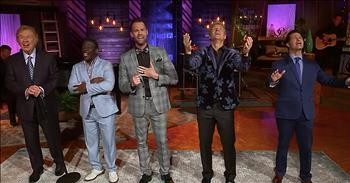 The talented men of the Gaither Vocal Band perform a live rendition of the classic hymn 'Revive Us Again.'

William Mackay wrote this blessed song in 1867. The hymn calls upon the ultimate sacrifice that Jesus made by giving his life to redeem mankind of its sins.
"We praise Thee, O God
For the Son of Thy love
For Jesus Who died
And is now gone above"
The Gaither Vocal Band is a popular all-male southern gospel ensemble. The band name comes from the founder and leader, Bill Gaither, who has written countless hymns over the decades.
Since 1981, this group has performed hundreds of our favorite worship tunes and beautiful original songs all over the world. Throughout their time, The Gaither Vocal Band has released 29 albums and there is no slowing down anytime soon.
Today, they are at Gaither Studios for a special live performance of 'Revive Us Again.' Just listen as they belt out these words of praise for our Father in Heaven.
"Hallelujah! Thine the glory
Hallelujah! Amen
Hallelujah! Thine the glory
Revive us again"
Time and time again, God proves that He is always there to lift us up. He will be our comfort when we are weary and the strength that will always stand by our side. What a blessing to sing these words of praise.
Psalm 138:7 "Though I walk in the midst of trouble, You will revive me; You will stretch forth Your hand against the wrath of my enemies, And Your right hand will save me."
gaither-vocal-band

3521 views

2019-07-15T13:41:17

source: Gaither Vocal Band The talented men of the Gaither Vocal Band perform a live rendition of the classic hymn 'Revive Us Again.'

William Mackay wrote this blessed song in 1867. The hymn calls upon the ultimate sacrifice that Jesus made by giving his life to redeem mankind of its sins.

"We praise Thee, O God
For the Son of Thy love
For Jesus Who died
And is now gone above"

The Gaither Vocal Band is a popular all-male southern gospel ensemble. The band name comes from the founder and leader, Bill Gaither, who has written countless hymns over the decades.

Since 1981, this group has performed hundreds of our favorite worship tunes and beautiful original songs all over the world. Throughout their time, The Gaither Vocal Band has released 29 albums and there is no slowing down anytime soon.

Today, they are at Gaither Studios for a special live performance of 'Revive Us Again.' Just listen as they belt out these words of praise for our Father in Heaven.

"Hallelujah! Thine the glory
Hallelujah! Amen
Hallelujah! Thine the glory
Revive us again"

Time and time again, God proves that He is always there to lift us up. He will be our comfort when we are weary and the strength that will always stand by our side. What a blessing to sing these words of praise.

Psalm 138:7 "Though I walk in the midst of trouble, You will revive me; You will stretch forth Your hand against the wrath of my enemies, And Your right hand will save me."

Today's Devotional
A Prayer for Dishing Out Truth - Your Daily Prayer - February 18
Top Artists