'Just A Closer Walk With Thee' Live Alabama Performance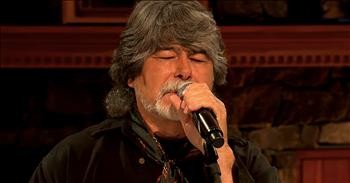 Country music group Alabama performs a live rendition of 'Just A Closer Walk With Thee.'

Though we don't know the author of this classic hymn, it was first recorded in 1941. Since that time, this gospel tune has become an all-time favorite for many for its moving lyrics and unique tune.
Through the years, the words still ring true today and tell of the strength and power that comes from the Lord.
"I am weak but Thou art strong
Jesus keep me from all wrong
I'll be satisfied as long
As I walk, let me walk close to Thee"
Alabama is a popular country group formed in the late 1960s. Over the years, this successful group has produced countless number one hits and they still continue to tour today. Alabama is also a band with a heart for the Lord. Recently, they recorded a string of gospel songs at the Gaither Studio. Today, they are belting out the iconic words to 'Just A Closer Walk With Thee.'
"Just a closer walk with Thee
Grant it, Jesus, is my plea
Daily walking close to Thee
Let it be, dear Lord, let it be"
There's something about country music and gospel that goes together perfectly and that's absolutely apparent with this performance. What an incredible group to hear give praises to our Lord.
Proverbs 3:5-6 "Trust in the LORD with all your heart, and do not lean on your own understanding. In all your ways acknowledge him, and he will make straight your paths."
alabama

16106 views

2019-07-08T13:54:00

source: Alabama Country music group Alabama performs a live rendition of 'Just A Closer Walk With Thee.'

Though we don't know the author of this classic hymn, it was first recorded in 1941. Since that time, this gospel tune has become an all-time favorite for many for its moving lyrics and unique tune.

Through the years, the words still ring true today and tell of the strength and power that comes from the Lord.

"I am weak but Thou art strong
Jesus keep me from all wrong
I'll be satisfied as long
As I walk, let me walk close to Thee"

Alabama is a popular country group formed in the late 1960s. Over the years, this successful group has produced countless number one hits and they still continue to tour today. Alabama is also a band with a heart for the Lord. Recently, they recorded a string of gospel songs at the Gaither Studio. Today, they are belting out the iconic words to 'Just A Closer Walk With Thee.'

"Just a closer walk with Thee
Grant it, Jesus, is my plea
Daily walking close to Thee
Let it be, dear Lord, let it be"

There's something about country music and gospel that goes together perfectly and that's absolutely apparent with this performance. What an incredible group to hear give praises to our Lord.

Proverbs 3:5-6 "Trust in the LORD with all your heart, and do not lean on your own understanding. In all your ways acknowledge him, and he will make straight your paths."

Today's Devotional
A Prayer for a Strong Marriage - Your Daily Prayer - August 9
Top Artists