'Loving My Jesus' Live Casting Crowns Performance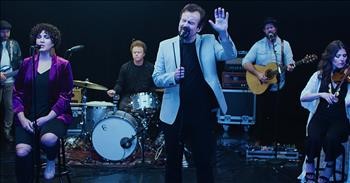 Grammy award-winning Christian group Casting Crowns performs a live rendition of their hit song 'Loving My Jesus.' The message of this song is that God loves us all no matter our faults or flaws.

"Loving my Jesus
Showing my scars
Telling my story of how mercy
Can reach You where You are
And I pray the whole world hears
The cry of my heart
Is to see all the ones I love
Loving my Jesus"
Casting Crowns formed in 1999. Since that time, they've become a name synonymous with Christian anthems and worship. Over the past two decades, this talented ensemble has given us hits such as 'Praise You In The Storm' and 'Who Am I.'
Now, they're at the YouTube Music Space in New York City for a special performance of this single 'Loving My Jesus.' Just listen as they beautifully belt out these powerful lyrics.
"The last thing this lost world needs
Is someone I'm trying to be
Truth that has set me free
Is that I'm just a broken man"
We are so loved by our Father in Heaven. His blessings reign down on us and we will continue to sing of His many wonders through songs, just like this one.
Matthew 22:37-39 "And he said to him, "You shall love the Lord your God with all your heart and with all your soul and with all your mind. This is the great and first commandment. And a second is like it: You shall love your neighbor as yourself."
casting-crowns

4266 views

2019-10-25T14:39:10

source: Casting Crowns Grammy award-winning Christian group Casting Crowns performs a live rendition of their hit song 'Loving My Jesus.' The message of this song is that God loves us all no matter our faults or flaws.

"Loving my Jesus
Showing my scars
Telling my story of how mercy
Can reach You where You are
And I pray the whole world hears
The cry of my heart
Is to see all the ones I love
Loving my Jesus"

Casting Crowns formed in 1999. Since that time, they've become a name synonymous with Christian anthems and worship. Over the past two decades, this talented ensemble has given us hits such as 'Praise You In The Storm' and 'Who Am I.'

Now, they're at the YouTube Music Space in New York City for a special performance of this single 'Loving My Jesus.' Just listen as they beautifully belt out these powerful lyrics.

"The last thing this lost world needs
Is someone I'm trying to be
Truth that has set me free
Is that I'm just a broken man"

We are so loved by our Father in Heaven. His blessings reign down on us and we will continue to sing of His many wonders through songs, just like this one.

Matthew 22:37-39 "And he said to him, "You shall love the Lord your God with all your heart and with all your soul and with all your mind. This is the great and first commandment. And a second is like it: You shall love your neighbor as yourself."

Today's Devotional
A Prayer for When the World Makes You Anxious - Your Daily Prayer - March 30
Top Artists