'Broken Together' Casting Crowns Live Performance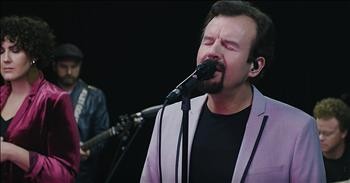 Award-winning musical group Casting Crowns performs a live rendition of their critically acclaimed single 'Broken Together.'

This song was originally released in 2014 for their album, Thrive. Years later, these words still hit you right in the heart.
"Maybe you and I were never meant to be complete
Could we just be broken together
If you can bring your shattered dreams and I'll bring mine
Could healing still be spoken and save us
The only way we'll last forever is broken together"
Lead singer Mark Hall wrote 'Broken Together' after lots of conversations with friends about relationships. "Marriage is tough, and it got me thinking about how we bring a lot of fairy tales to the picture when it comes to marriage. We think, 'This is going to be perfect. We're not going to have any problems.' And then the problems hit and you don't know where to file those into your picture."
As Casting Crowns belts out these lyrics at the YouTube Space in New York, we are reminded that God should be at the center of every Earthly relationship.
"It's going to take much more than promises this time
Only God can change our minds"
John 14: 1-5 "Let not your hearts be troubled. Believe in God;[a] believe also in me. 2 In my Father's house are many rooms. If it were not so, would I have told you that I go to prepare a place for you?[b] 3 And if I go and prepare a place for you, I will come again and will take you to myself, that where I am you may be also. 4 And you know the way to where I am going."
casting-crowns

1990 views

2019-10-10T09:06:00

source: Casting Crowns Award-winning musical group Casting Crowns performs a live rendition of their critically acclaimed single 'Broken Together.'

This song was originally released in 2014 for their album, Thrive. Years later, these words still hit you right in the heart.

"Maybe you and I were never meant to be complete
Could we just be broken together
If you can bring your shattered dreams and I'll bring mine
Could healing still be spoken and save us
The only way we'll last forever is broken together"

Lead singer Mark Hall wrote 'Broken Together' after lots of conversations with friends about relationships. "Marriage is tough, and it got me thinking about how we bring a lot of fairy tales to the picture when it comes to marriage. We think, 'This is going to be perfect. We're not going to have any problems.' And then the problems hit and you don't know where to file those into your picture."

As Casting Crowns belts out these lyrics at the YouTube Space in New York, we are reminded that God should be at the center of every Earthly relationship.

"It's going to take much more than promises this time
Only God can change our minds"

John 14: 1-5 "Let not your hearts be troubled. Believe in God;[a] believe also in me. 2 In my Father's house are many rooms. If it were not so, would I have told you that I go to prepare a place for you?[b] 3 And if I go and prepare a place for you, I will come again and will take you to myself, that where I am you may be also. 4 And you know the way to where I am going."

Today's Devotional
A Prayer for When the World Makes You Anxious - Your Daily Prayer - March 30
Top Artists