'Let's All Go Down To The River' Alabama Live Performance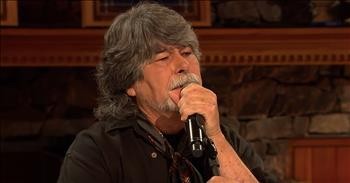 Fan-favorite country music group Alabama performs a beautiful rendition of the classic hymn 'Let's All Go Down To The River To Pray.' These words of worship remind us of the power and strength that comes from The Father.

"Let's all go down to the river
There's a man who's walking on the water
Come along with me
I want to see this man walking on the water"
Alabama is a popular country group formed in the late 1960s. Over the years, this successful group has produced countless number one hits and they still continue to tour today. Alabama is also a band with a heart for the Lord.
Recently, they recorded a string of gospel songs at the Gaither Studio. Today, they are belting out the iconic words to 'Let's All Go Down To The River.'
"Well, he can raise the dead from the grave, change the water and turn it into wine
And he can make the lame walk; he can make the dumb talk
And open up the eyes of the blind
Oh, let's all go down"
God gave us new life when He sent His only Son down to Earth to die for our sins. We were washed clean and freed of our chains. That is truly a blessing to give thanks for each and every day.
Ezekiel 47:9 "And wherever the river goes, every living creature that swarms will live, and there will be very many fish. For this water goes there, that the waters of the sea may become fresh; so everything will live where the river goes."
alabama

20079 views

2019-10-09T15:55:00

source: Alabama Fan-favorite country music group Alabama performs a beautiful rendition of the classic hymn 'Let's All Go Down To The River To Pray.' These words of worship remind us of the power and strength that comes from The Father.

"Let's all go down to the river
There's a man who's walking on the water
Come along with me
I want to see this man walking on the water"

Alabama is a popular country group formed in the late 1960s. Over the years, this successful group has produced countless number one hits and they still continue to tour today. Alabama is also a band with a heart for the Lord.

Recently, they recorded a string of gospel songs at the Gaither Studio. Today, they are belting out the iconic words to 'Let's All Go Down To The River.'

"Well, he can raise the dead from the grave, change the water and turn it into wine
And he can make the lame walk; he can make the dumb talk
And open up the eyes of the blind
Oh, let's all go down"

God gave us new life when He sent His only Son down to Earth to die for our sins. We were washed clean and freed of our chains. That is truly a blessing to give thanks for each and every day.

Ezekiel 47:9 "And wherever the river goes, every living creature that swarms will live, and there will be very many fish. For this water goes there, that the waters of the sea may become fresh; so everything will live where the river goes."

Today's Devotional
A Prayer for When the World Makes You Anxious - Your Daily Prayer - March 30
Top Artists