'My Redeemer Lives' Nicole C. Mullen Live Performance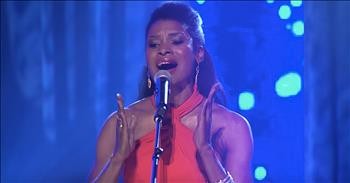 Christian artist Nicole C. Mullen performs a live rendition of her hit song 'My Redeemer Lives.' This powerful song and moving lyrics remind of the real reason for the Easter season.

"Who taught the sun where to stand in the morning?
Who told the ocean you can only come this far?
Who showed the moon where to hide 'til evening?
Whose words alone can catch a falling star?"
Nicole C. Mullen is a Dove and Grammy award-winning performer. She has been sharing the Gospel through worship music since the early 90s. One of Nicole's most famous songs is 'My Redeemer Lives.' It is the perfect song to cry out to the Lord.
"Well I know my Redeemer lives
I know my Redeemer lives
All of creation testify
This life within me cries"
When Jesus died for our sins on the cross, He paved the way for our entrance into Heaven. That is such a priceless gift and this worship song is the perfect way to give praise to His name. There's a reason 'My Redeemer Lives' has stood the test of time. It's a classic reminder that God is always with us.
Matthew 20:17-19 "17 Now Jesus was going up to Jerusalem. On the way, he took the Twelve aside and said to them,
18 "We are going up to Jerusalem, and the Son of Man will be delivered over to the chief priests and the teachers of the law. They will condemn him to death
19 and will hand him over to the Gentiles to be mocked and flogged and crucified. On the third day he will be raised to life!"
nicole-c-mullen

10029 views

2019-04-17T12:31:00

source: nicole-c-mullen Christian artist Nicole C. Mullen performs a live rendition of her hit song 'My Redeemer Lives.' This powerful song and moving lyrics remind of the real reason for the Easter season.

"Who taught the sun where to stand in the morning?
Who told the ocean you can only come this far?
Who showed the moon where to hide 'til evening?
Whose words alone can catch a falling star?"

Nicole C. Mullen is a Dove and Grammy award-winning performer. She has been sharing the Gospel through worship music since the early 90s. One of Nicole's most famous songs is 'My Redeemer Lives.' It is the perfect song to cry out to the Lord.

"Well I know my Redeemer lives
I know my Redeemer lives
All of creation testify
This life within me cries"

When Jesus died for our sins on the cross, He paved the way for our entrance into Heaven. That is such a priceless gift and this worship song is the perfect way to give praise to His name. There's a reason 'My Redeemer Lives' has stood the test of time. It's a classic reminder that God is always with us.

Matthew 20:17-19 "17 Now Jesus was going up to Jerusalem. On the way, he took the Twelve aside and said to them,

18 "We are going up to Jerusalem, and the Son of Man will be delivered over to the chief priests and the teachers of the law. They will condemn him to death

19 and will hand him over to the Gentiles to be mocked and flogged and crucified. On the third day he will be raised to life!"
Today's Devotional
A Prayer for Your Aging Parent - Your Daily Prayer - October 19
Top Artists