'When I'm With You' - Moving Video From Citizen Way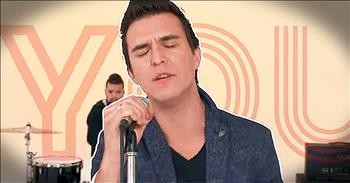 With God by our side, there is nothing to hide. And the powerful lyrics in 'When I'm With You' from Citizen Way is the perfect reminder. I'm so glad that He loves us no matter what!

From the new album "2.0" Available Everywhere Now!
Preview the album & get your copy here:
http://smarturl.it/CW-EvidenceiTunes
Special thanks to our sponsors:
Judson University-
http://www.judsonu.edu/citizenway/
J. Chester Amplifiers-
http://jchesteramplification.com/
Connect with Citizen Way:
Website: www.smarturl.it/citizenwayonline
Facebook: www.smarturl.it/citizenwayfb
Twitter: www.smarturl.it/citizenwaytwitter
Instagram: www.smarturl.it/citizenwayinsta
citizen-way

5023 views

2016-04-27T15:13:34

With God by our side, there is nothing to hide. And the powerful lyrics in 'When I'm With You' from Citizen Way is the perfect reminder. I'm so glad that He loves us no matter what!

From the new album "2.0" Available Everywhere Now!
Preview the album & get your copy here: http://smarturl.it/CW-EvidenceiTunes

Special thanks to our sponsors:

Judson University- http://www.judsonu.edu/citizenway/

J. Chester Amplifiers- http://jchesteramplification.com/


Connect with Citizen Way:

Website: www.smarturl.it/citizenwayonline
Facebook: www.smarturl.it/citizenwayfb
Twitter: www.smarturl.it/citizenwaytwitter
Instagram: www.smarturl.it/citizenwayinsta
Today's Devotional
A Prayer for Communication During Conflict - Your Daily Prayer - August 13
Top Artists