'Angels We Have Heard On High' Danny Gokey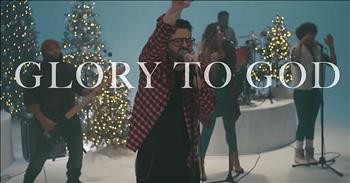 Christian singer-songwriter Danny Gokey brings the Christmas spirit with his rendition of 'Angels We Have Heard On High.'

This classic holiday song is a beloved favorite for so many around the world. The lyrics take us back to the night that Christ was born. The angels rejoiced and the whole world received their King.
'Angels we have heard on high
Sweetly singing o'er the plains
And the mountains in reply
Echoing their joyous strains'
We first met Danny Gokey when he appeared on the eighth season of American Idol. He ultimately finished third in the competition, but went on to start a successful career in the Christian music scene.
Now, he's a household name with hit songs such as 'Tell Your Heart To Beat Again' and 'Hope In Front Of Me.' Today, he's ringing in the Christmas season with 'Angels We Have Heard On High.'
'Come to Bethlehem and see
Him whose birth the angels sing
Come, adore on bended knee
Christ the Lord, the newborn King'
We are so blessed to have such a loving and gracious Father in Heaven. He sent His only Son down to Earth to die for our sins and that all started in a tiny town called Bethlehem.
Luke 2:15 "And it came to pass, as the angels were gone away from them into heaven, the shepherds said one to another, Let us now go even unto Bethlehem, and see this thing which is come to pass, which the Lord hath made known unto us."
Embed

danny-gokey

17033 views

2019-12-09T14:45:00

Christian singer-songwriter Danny Gokey brings the Christmas spirit with his rendition of 'Angels We Have Heard On High.'

This classic holiday song is a beloved favorite for so many around the world. The lyrics take us back to the night that Christ was born. The angels rejoiced and the whole world received their King.

'Angels we have heard on high
Sweetly singing o'er the plains
And the mountains in reply
Echoing their joyous strains'

We first met Danny Gokey when he appeared on the eighth season of American Idol. He ultimately finished third in the competition, but went on to start a successful career in the Christian music scene.

Now, he's a household name with hit songs such as 'Tell Your Heart To Beat Again' and 'Hope In Front Of Me.' Today, he's ringing in the Christmas season with 'Angels We Have Heard On High.'

'Come to Bethlehem and see
Him whose birth the angels sing
Come, adore on bended knee
Christ the Lord, the newborn King'

We are so blessed to have such a loving and gracious Father in Heaven. He sent His only Son down to Earth to die for our sins and that all started in a tiny town called Bethlehem.

Luke 2:15 "And it came to pass, as the angels were gone away from them into heaven, the shepherds said one to another, Let us now go even unto Bethlehem, and see this thing which is come to pass, which the Lord hath made known unto us."

Today's Devotional
A Prayer to Forgive Yourself - Your Daily Prayer - June 3
Top Artists