'Light of the World' Lauren Daigle Christmas Performance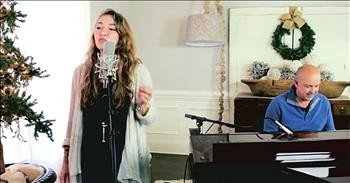 Grammy award-winning Christian singer and songwriter Lauren Daigle performs a beautiful rendition of 'Light Of The World.' This modern Christmas song is the perfect reminder of the real reason for the season, the birth of our Savior, Jesus Christ.

"The world waits for a miracle
The heart longs for a little bit of hope
Oh come, oh come, Emmanuel
A child prays for peace on Earth
And she's calling out from a sea of hurt
Oh come, oh come, Emmanuel"
Since the moment she stepped on the scene, Lauren Daigle has delighted audiences with her unique voice and God-given talent for leading worship. Over the past few years, she's given us hits such as 'You Say' and 'How Can It Be.'
Now, Lauren is sharing the real meaning of Christmas with this special performance of 'Light Of The World.' Just listen as she belts out these lyrics that give praise to our King.
"He is the song for the suffering
He is Messiah, the Prince of Peace has come
He has come, Emmanuel"
It was truly a miraculous night when Christ was born. The angels rejoiced and the whole world received their King. And there's nothing better than celebrating His birth with beautiful words of worship. Let us all join our voices together this Christmas season and help spread God's message of love and hope.
John 8:12 "Again Jesus spoke to them, saying, "I am the light of the world. Whoever follows me will not walk in darkness, but will have the light of life."
Embed

lauren-daigle

56931 views

2013-11-19T13:29:00

Grammy award-winning Christian singer and songwriter Lauren Daigle performs a beautiful rendition of 'Light Of The World.' This modern Christmas song is the perfect reminder of the real reason for the season, the birth of our Savior, Jesus Christ.

"The world waits for a miracle
The heart longs for a little bit of hope
Oh come, oh come, Emmanuel
A child prays for peace on Earth
And she's calling out from a sea of hurt
Oh come, oh come, Emmanuel"

Since the moment she stepped on the scene, Lauren Daigle has delighted audiences with her unique voice and God-given talent for leading worship. Over the past few years, she's given us hits such as 'You Say' and 'How Can It Be.'

Now, Lauren is sharing the real meaning of Christmas with this special performance of 'Light Of The World.' Just listen as she belts out these lyrics that give praise to our King.

"He is the song for the suffering
He is Messiah, the Prince of Peace has come
He has come, Emmanuel"

It was truly a miraculous night when Christ was born. The angels rejoiced and the whole world received their King. And there's nothing better than celebrating His birth with beautiful words of worship. Let us all join our voices together this Christmas season and help spread God's message of love and hope.

John 8:12 "Again Jesus spoke to them, saying, "I am the light of the world. Whoever follows me will not walk in darkness, but will have the light of life."

Today's Devotional
A Prayer for the Filling of God's Power and Love - Your Daily Prayer - August 4
Top Artists