Piano Guys And Peter Hollens Sing Christmas Hymn With World's Largest Nativity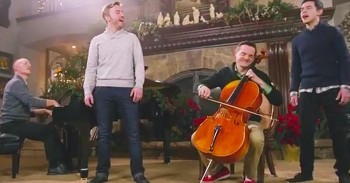 The talented voices of The Piano Guys, Peter Hollens and David Archuleta come together for a beautiful Christmas hymn performed with over 1,000 people.

Christmas time is about celebrating the birth of Jesus Christ and spreading His message for all to hear. And that's exactly what these incredible artists are doing today as they belt out the words of 'Angels From The Realms Of Glory.'
"Angels from the realms of glory
Wing your flight through all the earth
Ye who sang creation's story
Now proclaim Messiah's birth"
This classic Christmas song sings of the power and glory that came from our Savior's birth. And now, these musicians are proclaiming His excellence along with 1,000 other voices. This performance set the record for the largest live nativity with 1039 people. That is an incredible number of singers coming together to praise His Name. Just listen as they put their heart and soul into every single note.
"Shepherds, in the fields abiding
Watching o'er your flocks by night
God with man is now residing
Yonder shines the infant light
Gloria
In excelsis deo"
In that little town of Bethlehem, Jesus was born in a manger. That single event changed our entire course of history. Let us tell the world that our King is here as we sing these words loud and clear!
Matthew 2:11 "After coming into the house they saw the Child with Mary His mother; and they fell to the ground and worshiped Him. Then, opening their treasures, they presented to Him gifts of gold, frankincense, and myrrh."
peter-hollens

62313 views

2014-12-15T16:58:00

source: Peter Hollens The talented voices of The Piano Guys, Peter Hollens and David Archuleta come together for a beautiful Christmas hymn performed with over 1,000 people.

Christmas time is about celebrating the birth of Jesus Christ and spreading His message for all to hear. And that's exactly what these incredible artists are doing today as they belt out the words of 'Angels From The Realms Of Glory.'

"Angels from the realms of glory
Wing your flight through all the earth
Ye who sang creation's story
Now proclaim Messiah's birth"

This classic Christmas song sings of the power and glory that came from our Savior's birth. And now, these musicians are proclaiming His excellence along with 1,000 other voices. This performance set the record for the largest live nativity with 1039 people. That is an incredible number of singers coming together to praise His Name. Just listen as they put their heart and soul into every single note.

"Shepherds, in the fields abiding
Watching o'er your flocks by night
God with man is now residing
Yonder shines the infant light
Gloria
In excelsis deo"

In that little town of Bethlehem, Jesus was born in a manger. That single event changed our entire course of history. Let us tell the world that our King is here as we sing these words loud and clear!

Matthew 2:11 "After coming into the house they saw the Child with Mary His mother; and they fell to the ground and worshiped Him. Then, opening their treasures, they presented to Him gifts of gold, frankincense, and myrrh."

Today's Devotional
A Prayer for When You Don't Feel Like Praising God - Your Daily Prayer - May 27
Top Artists