2 Adorable Children Sing 'Jesus Loves Me'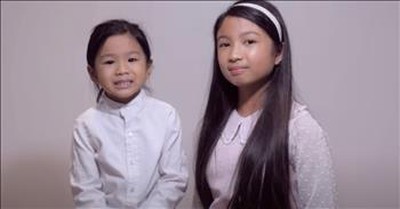 If you need to put a smile on your face, then check out this precious clip. In this video, watch 2 adorable children sing "Jesus Loves Me."

The Asidors are an incredible singing family who live in the Philippines. They love to share worship songs as a ministry to the world. In this clip, two of the children, Hunter and Bree, are singing the classic song, "Jesus Loves Me."
The sisters start out by showing the youngest smiling preciously. Then, she begins singing a cappella with the voice of a little angel. The older sister starts joining in the song. Both have very pure tones that blend perfectly in their duet. When you think it cannot get any cuter, the youngest begins to do hand motions.
The older one sings with such sincerity and the younger is very expressive. Suddenly. the girls do a beautiful key change. Then, to close out the song, the little one sings, "the Bible tells me so" on a decrescendo. The two sisters smile.
The Bible tells us that children will proclaim the truth of God. These two young people are not just singing a classic children's worship song, they are proclaiming the gospel clearly.
Just like John 3:16 is one of the most popular Bible verses, "Jesus Loves Me" is one of the most popular children's praise songs. These young girls shine a bright light for Christ in the way they present the gospel through music.
"O LORD, our Lord, how majestic is Your name in all the earth! You have set Your glory above the heavens. From the mouths of children and infants. You have ordained praise on account of Your adversaries, to silence the enemy and avenger."
Psalm 8:1-2
kidsarecute

1274 views

2021-11-08T09:28:53

source: The AsidorS Home If you need to put a smile on your face, then check out this precious clip. In this video, watch 2 adorable children sing "Jesus Loves Me."

The Asidors are an incredible singing family who live in the Philippines. They love to share worship songs as a ministry to the world. In this clip, two of the children, Hunter and Bree, are singing the classic song, "Jesus Loves Me."

The sisters start out by showing the youngest smiling preciously. Then, she begins singing a cappella with the voice of a little angel. The older sister starts joining in the song. Both have very pure tones that blend perfectly in their duet. When you think it cannot get any cuter, the youngest begins to do hand motions.

The older one sings with such sincerity and the younger is very expressive. Suddenly. the girls do a beautiful key change. Then, to close out the song, the little one sings, "the Bible tells me so" on a decrescendo. The two sisters smile.

The Bible tells us that children will proclaim the truth of God. These two young people are not just singing a classic children's worship song, they are proclaiming the gospel clearly.

Just like John 3:16 is one of the most popular Bible verses, "Jesus Loves Me" is one of the most popular children's praise songs. These young girls shine a bright light for Christ in the way they present the gospel through music.
"O LORD, our Lord, how majestic is Your name in all the earth! You have set Your glory above the heavens. From the mouths of children and infants. You have ordained praise on account of Your adversaries, to silence the enemy and avenger." Psalm 8:1-2

Today's Devotional
A Prayer to Remember That Joy Is a Way of Life - Your Daily Prayer - May 21
The Bible commands us, "be joyful aways!"
Top Artists
Top Music Videos