'Courageous' Casting Crowns Official Music Video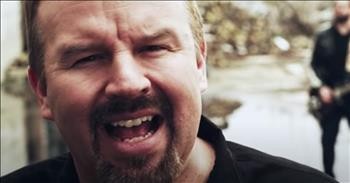 Enjoy 'Courageous' by Casting Crowns as you worship the Lord with all your heart. These inspiring words will truly remind you that with God by our side, there is nothing we cannot face.

"We were made to be courageous
And we're taking back the fight
We were made to be courageous
And it starts with us tonight"
Casting Crowns formed in 1999. Since that time, they've become a name synonymous with Christian anthems and worship. Over the past two decades, this talented ensemble has given us hits such as 'Praise You In The Storm' and 'Who Am I.'
Today, we're looking back at one of their biggest songs 'Courageous' which was featured in the movie of the same name. The inspiring words are the perfect reminder that God is the source of our light and our strength. When He stands by our side, nothing can hold us down.
"The only way we'll ever stand
Is on our knees with lifted hands
Make us courageous
Lord, make us courageous"
As our world walks through troubling times, it's more important than ever to come together and turn to God. With Him, we can all be courageous.
1 Chronicles 28:20 "David also said to Solomon his son, "Be strong and courageous and do the work. Do not be afraid or discouraged, for the LORD God, my God is with you. He will not fail you or forsake you until all the work for the service of the temple of the LORD is finished."
casting-crowns

751852 views

2011-06-09T01:14:00

source: Casting Crowns Enjoy 'Courageous' by Casting Crowns as you worship the Lord with all your heart. These inspiring words will truly remind you that with God by our side, there is nothing we cannot face.

"We were made to be courageous
And we're taking back the fight
We were made to be courageous
And it starts with us tonight"

Casting Crowns formed in 1999. Since that time, they've become a name synonymous with Christian anthems and worship. Over the past two decades, this talented ensemble has given us hits such as 'Praise You In The Storm' and 'Who Am I.'

Today, we're looking back at one of their biggest songs 'Courageous' which was featured in the movie of the same name. The inspiring words are the perfect reminder that God is the source of our light and our strength. When He stands by our side, nothing can hold us down.

"The only way we'll ever stand
Is on our knees with lifted hands
Make us courageous
Lord, make us courageous"

As our world walks through troubling times, it's more important than ever to come together and turn to God. With Him, we can all be courageous.

1 Chronicles 28:20 "David also said to Solomon his son, "Be strong and courageous and do the work. Do not be afraid or discouraged, for the LORD God, my God is with you. He will not fail you or forsake you until all the work for the service of the temple of the LORD is finished."

Today's Devotional
A Prayer for the Filling of God's Power and Love - Your Daily Prayer - August 4
Top Artists