What About Love? - Portia's Song - Friends and Heroes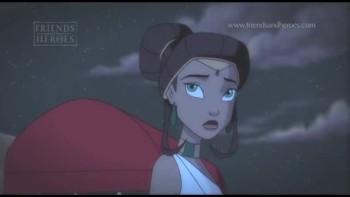 Portia's journey is the story of Friends and Heroes. The wealthy niece of the Roman Governor of Alexandria in AD68, she meets Macky and his family and friends who are "Friends of Jesus".

Through their adventures, she learns the stories of the Old and New Testament, and the teachings of Jesus change her entire outlook on life and eternity.
This song is not about boy-girl love, but the love that can and does change the world. It could change you.
----------------------------------------­------------------------
This is the music video from the title song of our new album "What About Love?".
The album takes inspiration from the Bible Stories that are told in the first Series of Friends and Heroes. Also included are some songs from some of the main characters and also a special bonus of the full version of the Friends and Heroes theme song "Looking For a Hero"
For more details check out -
http://www.friendsandheroes.com/songs
To keep up to date with all of the latest Friends and Her
Embed

friendsandheroes

5052 views

2010-12-21T11:50:44

Portia's journey is the story of Friends and Heroes. The wealthy niece of the Roman Governor of Alexandria in AD68, she meets Macky and his family and friends who are "Friends of Jesus".

Through their adventures, she learns the stories of the Old and New Testament, and the teachings of Jesus change her entire outlook on life and eternity.

This song is not about boy-girl love, but the love that can and does change the world. It could change you.

----------------------------------------­------------------------

This is the music video from the title song of our new album "What About Love?".

The album takes inspiration from the Bible Stories that are told in the first Series of Friends and Heroes. Also included are some songs from some of the main characters and also a special bonus of the full version of the Friends and Heroes theme song "Looking For a Hero"

For more details check out - http://www.friendsandheroes.com/songs

To keep up to date with all of the latest Friends and Her
Today's Devotional
A Prayer to End Double-Mindedness - Your Daily Prayer - December 7, 2018
Top Artists