Reign Above It All' Bethel Music Featuring Paul McClure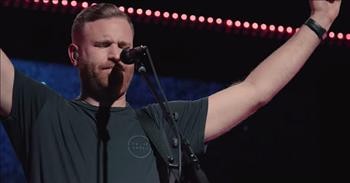 Bethel Music features Paul McClure in their new worship song, 'Reign Above It All.'

"The reign of darkness now has ended in the kingdom of light, in the kingdom of light
Forever under Your dominion you're the King of my life, you're the King of my life
You reign above it all, You reign above it all
Over the universe and over every heart
There is no higher name, Jesus You reign above it all"
These powerful words just make you want to shout out and proclaim His goodness while listening to this song! The lyrics are full of the hope that we have in the Lord. Our God reigns above it all, and we can put all of our trust in Him. All things are possible through Jesus Christ our Lord.
The song 'Reign Above It All' is from Bethel Music's new album, Revival's In The Air. The album was released on May 29, 2020. This is the 15th live recording album from Bethel Music, and the 17-track project showcases a myriad of songwriters and worship leaders, including Brian and Jenn Johnson, Cory Asbury, Jonathan David and Melissa Helser, Josh Baldwin, Kristene DiMarco, Paul and Hannah McClure, Brandon Lake, and Bethany Wohrle and Dante Bowe.
May you be encouraged by this Spirit-led music, and let it brighten your day!
Revelation 4:9-11
9 Whenever the living creatures give glory, honor and thanks to him who sits on the throne and who lives for ever and ever, 10 the twenty-four elders fall down before him who sits on the throne and worship him who lives for ever and ever. They lay their crowns before the throne and say: 11 "You are worthy, our Lord and God, to receive glory and honor and power, for you created all things, and by your will they were created and have their being."
bethel-music

372 views

2020-06-04T10:50:50

source: Bethel Music Bethel Music features Paul McClure in their new worship song, 'Reign Above It All.'

"The reign of darkness now has ended in the kingdom of light, in the kingdom of light
Forever under Your dominion you're the King of my life, you're the King of my life
You reign above it all, You reign above it all
Over the universe and over every heart
There is no higher name, Jesus You reign above it all"

These powerful words just make you want to shout out and proclaim His goodness while listening to this song! The lyrics are full of the hope that we have in the Lord. Our God reigns above it all, and we can put all of our trust in Him. All things are possible through Jesus Christ our Lord.

The song 'Reign Above It All' is from Bethel Music's new album, Revival's In The Air. The album was released on May 29, 2020. This is the 15th live recording album from Bethel Music, and the 17-track project showcases a myriad of songwriters and worship leaders, including Brian and Jenn Johnson, Cory Asbury, Jonathan David and Melissa Helser, Josh Baldwin, Kristene DiMarco, Paul and Hannah McClure, Brandon Lake, and Bethany Wohrle and Dante Bowe.

May you be encouraged by this Spirit-led music, and let it brighten your day!

Revelation 4:9-11
9 Whenever the living creatures give glory, honor and thanks to him who sits on the throne and who lives for ever and ever, 10 the twenty-four elders fall down before him who sits on the throne and worship him who lives for ever and ever. They lay their crowns before the throne and say: 11 "You are worthy, our Lord and God, to receive glory and honor and power, for you created all things, and by your will they were created and have their being."

Today's Devotional
A Prayer for a Strong Marriage - Your Daily Prayer - August 9
Top Artists