'Winter Wonderland' Hannah Kerr Official Music Video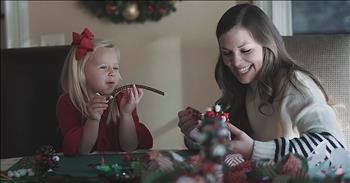 Contemporary Christian artist Hannah Kerr helps ring in the Christmas season with her official video for 'Winter Wonderland.'

This nostalgic holiday song always reminds us of the best memories and time spent with family.
"Sleigh bells ring, are you listening?
In the lane, snow is glistening
A beautiful sight
We're happy tonight
Walking in a winter wonderland"
22-year-old Hannah Kerr is a rising star in the Christian music world. Since releasing her debut album in 2016, Hannah has continued to share God's message through inspiring worship music like 'Split The Sea' and 'Warrior.'
Today, she's helping us all get in the Christmas spirit with her beautiful rendition of 'Winter Wonderland.' Just listen as she sings these beloved lyrics amongst a backdrop of smiling children gearing up for the holidays.
"In the meadow we can build a snowman
We'll pretend that he is Parson Brown
He'll say, Are you married?
We'll say, No man
But you can do the job while you're in town"
Christmas is about celebrating the birth of our Savior and Hannah is ushering in the season in such an incredible way.
Luke 2:11-14 "11 Today in the town of David a Savior has been born to you; he is the Messiah, the Lord. 12 This will be a sign to you: You will find a baby wrapped in cloths and lying in a manger." 13 Suddenly a great company of the heavenly host appeared with the angel, praising God and saying, 14 "Glory to God in the highest heaven, and on earth peace to those on whom his favor rests."
godtube-inspiration

517 views

2019-11-25T11:02:46

source: Hannah Kerr Contemporary Christian artist Hannah Kerr helps ring in the Christmas season with her official video for 'Winter Wonderland.'

This nostalgic holiday song always reminds us of the best memories and time spent with family.

"Sleigh bells ring, are you listening?
In the lane, snow is glistening
A beautiful sight
We're happy tonight
Walking in a winter wonderland"

22-year-old Hannah Kerr is a rising star in the Christian music world. Since releasing her debut album in 2016, Hannah has continued to share God's message through inspiring worship music like 'Split The Sea' and 'Warrior.'

Today, she's helping us all get in the Christmas spirit with her beautiful rendition of 'Winter Wonderland.' Just listen as she sings these beloved lyrics amongst a backdrop of smiling children gearing up for the holidays.

"In the meadow we can build a snowman
We'll pretend that he is Parson Brown
He'll say, Are you married?
We'll say, No man
But you can do the job while you're in town"

Christmas is about celebrating the birth of our Savior and Hannah is ushering in the season in such an incredible way.

Luke 2:11-14 "11 Today in the town of David a Savior has been born to you; he is the Messiah, the Lord. 12 This will be a sign to you: You will find a baby wrapped in cloths and lying in a manger." 13 Suddenly a great company of the heavenly host appeared with the angel, praising God and saying, 14 "Glory to God in the highest heaven, and on earth peace to those on whom his favor rests."

Today's Devotional
A Prayer for When Time Doesn't Heal a Broken Heart - Your Daily Prayer - July 2
Top Artists