'Love One Another' Newboys Official Music Video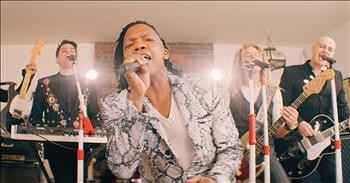 The Newsboys share their latest inspirational single 'Love One Another' with a fun and upbeat music video.

These words remind us all to be kind and help others in these unprecedented times.
"Love one another
Sister and brother
Don't hurt each other, yeah
Lines drawn in the sand
Complicate our new command
Love one another, yeah"
For decades, this Christian rock band has led us in worship with hits such as 'God's Not Dead' and 'We Believe.' Newsboys was originally founded in 1985. But now, the past is meeting the present with an amazing new super group.
Newsboys United is comprised of Michael Tait, Duncan Phillips, Jeff Frankenstein and Jody Davis and former Newsboys members Peter Furler and Phil Joel. Their latest single, 'Love One Another' is all about our hope in God and kindness to others.
Band member Jeff Frankenstein spoke on the message behind the song to Niagra Frontier Publications. "Now, with the situation our world is facing, we realize the message of loving and being there for each other is even more timely. It's our hope the video will be a reminder of what's important, while also offering a much-needed laugh in this difficult time."
"Love loves a troubled face (A troubled face)
Love loves a hopeless case (I'm such a hopeless case)
Love loves to break the ice (I'ma break the ice)
Love loves at any price (At any price)"
Ephesians 4:32 "Be kind and compassionate to one another, forgiving each other, just as in Christ God forgave you."
newsboys

8283 views

2020-03-26T09:19:00

source: Newsboys The Newsboys share their latest inspirational single 'Love One Another' with a fun and upbeat music video.

These words remind us all to be kind and help others in these unprecedented times.

"Love one another
Sister and brother
Don't hurt each other, yeah
Lines drawn in the sand
Complicate our new command
Love one another, yeah"

For decades, this Christian rock band has led us in worship with hits such as 'God's Not Dead' and 'We Believe.' Newsboys was originally founded in 1985. But now, the past is meeting the present with an amazing new super group.

Newsboys United is comprised of Michael Tait, Duncan Phillips, Jeff Frankenstein and Jody Davis and former Newsboys members Peter Furler and Phil Joel. Their latest single, 'Love One Another' is all about our hope in God and kindness to others.

Band member Jeff Frankenstein spoke on the message behind the song to Niagra Frontier Publications. "Now, with the situation our world is facing, we realize the message of loving and being there for each other is even more timely. It's our hope the video will be a reminder of what's important, while also offering a much-needed laugh in this difficult time."

"Love loves a troubled face (A troubled face)
Love loves a hopeless case (I'm such a hopeless case)
Love loves to break the ice (I'ma break the ice)
Love loves at any price (At any price)"

Ephesians 4:32 "Be kind and compassionate to one another, forgiving each other, just as in Christ God forgave you."

Today's Devotional
A Prayer to Help Your Kids Love God's Word - Your Daily Prayer - July 5
Top Artists