MSNBC Host Asks Bishop T.D. Jakes To Lead Prayer On Live Television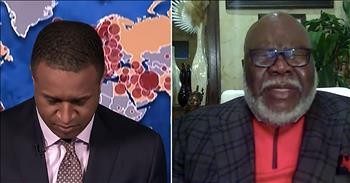 MSNBC host Craig Melvin broke from the news to ask Bishop T.D. Jakes to lead a prayer on live television.

As the Coronavirus sweeps across the globe, it has led to unprecedented times of uncertainty and worry. From health to small businesses, this virus has affected every sector of the community.
And in these troubling moments, it's easy to focus on the negative. But when you hand your worries over to God, He will remind you that He is in control. And we're seeing so many beautiful moments of faith and kindness along the way.
For instance, MSNBC anchor Craig Melvin was recently interviewing Bishop T.D. Jakes, founder The Potter's House Church. Before the interview wrapped up, Craig had one important question to ask. "For folks who weren't able to get to church yesterday, I've never actually done this on the air, can you lead us in prayer?" That's when they both bowed their head and Bishop Jakes lead the nation in an incredible prayer.
This was certainly a much-needed moment, especially on a news station. I hope that we continue to see more instances of faith and God's work throughout these rough times.
Matthew 6:19-21 "Do not lay up for yourselves treasures on earth, where moth and rust destroy and where thieves break in and steal, but lay up for yourselves treasures in heaven, where neither moth nor rust destroys and where thieves do not break in and steal. For where your treasure is, there your heart will be also."
godtube-inspiration

5192 views

2020-03-31T11:31:06

source: MSNBC MSNBC host Craig Melvin broke from the news to ask Bishop T.D. Jakes to lead a prayer on live television.

As the Coronavirus sweeps across the globe, it has led to unprecedented times of uncertainty and worry. From health to small businesses, this virus has affected every sector of the community.

And in these troubling moments, it's easy to focus on the negative. But when you hand your worries over to God, He will remind you that He is in control. And we're seeing so many beautiful moments of faith and kindness along the way.

For instance, MSNBC anchor Craig Melvin was recently interviewing Bishop T.D. Jakes, founder The Potter's House Church. Before the interview wrapped up, Craig had one important question to ask. "For folks who weren't able to get to church yesterday, I've never actually done this on the air, can you lead us in prayer?" That's when they both bowed their head and Bishop Jakes lead the nation in an incredible prayer.

This was certainly a much-needed moment, especially on a news station. I hope that we continue to see more instances of faith and God's work throughout these rough times.

Matthew 6:19-21 "Do not lay up for yourselves treasures on earth, where moth and rust destroy and where thieves break in and steal, but lay up for yourselves treasures in heaven, where neither moth nor rust destroys and where thieves do not break in and steal. For where your treasure is, there your heart will be also."

Suggested For You
---
Related Videos
---
Today's Devotional
A Prayer to Forgive Yourself - Your Daily Prayer - June 3
Top Artists