Hoda Kotb On The 1 Simple Gesture From Her Fiance That Made Her Heart Grow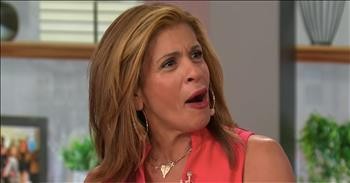 Morning anchor Hoda Kotb shares a special moment of love from her fiancé Joel that truly opened her eyes.

For years, Hoda has been a staple on our TV's as the co-host of The Today Show's fourth hour. In 2018, she was named as the co-anchor of the beloved morning show, alongside Savannah Guthrie.
Even Hoda's personal life is thriving with the addition of Haley Joy in February of 2017. Then, in April of 2019, Hoda added another girl into the mix with the adoption of Hope. The happiness keeps coming as she was recently engaged to longtime partner, Joel Schiffman.
While talking about men who exemplify honor and chivalry, Hoda shared a recent moment that caused her to take a pause. "I think sometimes it's about the tiniest gesture in the world."
Hoda recalled a weekend when her mother was visiting from out of town. Whenever she travels, Hoda's mom likes to have her bag by the door.
On the morning of her departure, without being asked, Joel retrieved the bag and set it beside the door. "I looked at Joel and I said 'I have never loved you more than right now.'" It was such a simple moment but it truly made Hoda realize the love that she had for her fiancé.
This is such an important reminder that it's all of the little things that add up to the big moments. "You realize if you listen to your loved ones, they'll tell you what they want. And sometimes, it's so small. You don't have to do anything major."
godtube-inspiration

1172 views

2020-02-25T14:57:24

source: TODAY Morning anchor Hoda Kotb shares a special moment of love from her fiancé Joel that truly opened her eyes.

For years, Hoda has been a staple on our TV's as the co-host of The Today Show's fourth hour. In 2018, she was named as the co-anchor of the beloved morning show, alongside Savannah Guthrie.

Even Hoda's personal life is thriving with the addition of Haley Joy in February of 2017. Then, in April of 2019, Hoda added another girl into the mix with the adoption of Hope. The happiness keeps coming as she was recently engaged to longtime partner, Joel Schiffman.

While talking about men who exemplify honor and chivalry, Hoda shared a recent moment that caused her to take a pause. "I think sometimes it's about the tiniest gesture in the world."

Hoda recalled a weekend when her mother was visiting from out of town. Whenever she travels, Hoda's mom likes to have her bag by the door.

On the morning of her departure, without being asked, Joel retrieved the bag and set it beside the door. "I looked at Joel and I said 'I have never loved you more than right now.'" It was such a simple moment but it truly made Hoda realize the love that she had for her fiancé.

This is such an important reminder that it's all of the little things that add up to the big moments. "You realize if you listen to your loved ones, they'll tell you what they want. And sometimes, it's so small. You don't have to do anything major."
Today's Devotional
A Prayer for Forgiving Others - Your Daily Prayer - May 26
Top Artists