Musical Motivation In Britt Nicole's Live Performance Of 'Be the Change'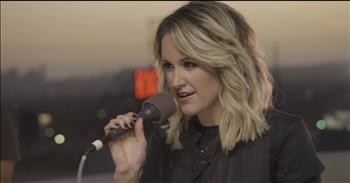 Britt Nicole delivers this spirited live performance of "Be The Change" and drives home the message that "It begins with you and I. Together we can be the change". This one will have you out of your seat and ready to make a difference!

Britt Nicole performs "Be The Change" Live on the Honda Stage
Connect with Britt:
http://instagram.com/itsbrittnicole
http://facebook.com/BrittNicole
http://twitter.com/ItsBrittNicole
http://brittnicole.com/
Building on its deep foundation of bringing music to fans, American Honda has brought together an unprecedented group of entertainment and technology leaders to produce and distribute some of the best original, high-quality music content available, under the Honda Stage name. Through a combination of live events, Honda Civic Tour, Honda Stage festivals and exclusive online content from partners including iHeartMedia, Vevo, Universal Music Group, Sony Music, Woven Digital and YouTube, Honda Stage offers music fans access to the music moments they love from Honda Stage social handles and www.YouTube.com/HondaStage.
Subscribe to discover new music from #HondaStage:
http://honda.us/YTSubscribe
Find us on Facebook:
http://honda.us/HSFacebook
Follow us on Twitter:
http://honda.us/HSTwitter
Follow us on Instagram:
http://honda.us/HSInstagram
Follow us on Tumblr:
http://honda.us/Tumblr
Visit our website:
http://honda.us/HondaStage
Music video by Britt Nicole performing Be The Change. (C) 2016 Capitol CMG Label Group
Embed

britt-nicole

9197 views

2017-02-24T10:05:00

Britt Nicole delivers this spirited live performance of "Be The Change" and drives home the message that "It begins with you and I. Together we can be the change". This one will have you out of your seat and ready to make a difference!

Britt Nicole performs "Be The Change" Live on the Honda Stage
Connect with Britt:
http://instagram.com/itsbrittnicole
http://facebook.com/BrittNicole
http://twitter.com/ItsBrittNicole
http://brittnicole.com/

Building on its deep foundation of bringing music to fans, American Honda has brought together an unprecedented group of entertainment and technology leaders to produce and distribute some of the best original, high-quality music content available, under the Honda Stage name. Through a combination of live events, Honda Civic Tour, Honda Stage festivals and exclusive online content from partners including iHeartMedia, Vevo, Universal Music Group, Sony Music, Woven Digital and YouTube, Honda Stage offers music fans access to the music moments they love from Honda Stage social handles and www.YouTube.com/HondaStage.

Subscribe to discover new music from #HondaStage: http://honda.us/YTSubscribe
Find us on Facebook: http://honda.us/HSFacebook
Follow us on Twitter: http://honda.us/HSTwitter
Follow us on Instagram: http://honda.us/HSInstagram
Follow us on Tumblr: http://honda.us/Tumblr
Visit our website: http://honda.us/HondaStage

Music video by Britt Nicole performing Be The Change. (C) 2016 Capitol CMG Label Group
Today's Devotional
A Prayer for Reassurance - Your Daily Prayer - January 19, 2019
Top Artists