Christian Singer Michael W. Smith Was A Wayward Son Before Turning To God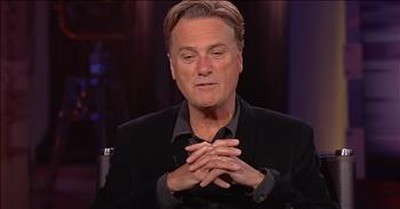 It takes a lot of courage to share about the poor decisions of rebellion. In this video Christian singer Michael W. Smith tells of being a wayward son before turning to God.

On the Praise show via TBN, Michael shares about how his friends went to college and he became a prodigal. In the midst of his rebellion he got into drugs. He says that even when he was high, he could not help but talk about Jesus. Michael said that there was an undeniable calling on his life and he knew it. While he was deep in the pit, Michael fell to the ground in his apartment and sobbed for over three hours shaking. He said it was a pivotal moment for him because he experienced God lying there with him.
Michael is on the show sharing about a new book that he wrote called, "The Way of the Father." He talks about his personal experience with God being with him at his lowest and loving him there. He shares how his own parents prayed fervently for him daily. They did not abandon him in his rebellion, but loved him and welcomed him in. It was heartbreaking and challenging, but they played a huge role in Michael's recovery and return to Christ.
Michael is a Grammy Award winning Christian Artist. Some of his most popular songs include, "Above All," "Agnus Dei," "Healing Rain," and "Awesome God." He has always been a gifted songwriter and performer. I love his authenticity in this video and his call to love and extend grace as God has given to him and to each of us.
"I will arise and go to my father, and I will say to him, "Father, I have sinned against heaven and before you. I am no longer worthy to be called your son. Treat me as one of your hired servants."' And he arose and came to his father. But while he was still a long way off, his father saw him and felt compassion, and ran and embraced him and kissed him.
Luke 15:18-20
michael-w-smith

1362 views

2021-06-11T10:47:10

source: Michael W. Smith It takes a lot of courage to share about the poor decisions of rebellion. In this video Christian singer Michael W. Smith tells of being a wayward son before turning to God.

On the Praise show via TBN, Michael shares about how his friends went to college and he became a prodigal. In the midst of his rebellion he got into drugs. He says that even when he was high, he could not help but talk about Jesus. Michael said that there was an undeniable calling on his life and he knew it. While he was deep in the pit, Michael fell to the ground in his apartment and sobbed for over three hours shaking. He said it was a pivotal moment for him because he experienced God lying there with him.

Michael is on the show sharing about a new book that he wrote called, "The Way of the Father." He talks about his personal experience with God being with him at his lowest and loving him there. He shares how his own parents prayed fervently for him daily. They did not abandon him in his rebellion, but loved him and welcomed him in. It was heartbreaking and challenging, but they played a huge role in Michael's recovery and return to Christ.

Michael is a Grammy Award winning Christian Artist. Some of his most popular songs include, "Above All," "Agnus Dei," "Healing Rain," and "Awesome God." He has always been a gifted songwriter and performer. I love his authenticity in this video and his call to love and extend grace as God has given to him and to each of us.

"I will arise and go to my father, and I will say to him, "Father, I have sinned against heaven and before you. I am no longer worthy to be called your son. Treat me as one of your hired servants."' And he arose and came to his father. But while he was still a long way off, his father saw him and felt compassion, and ran and embraced him and kissed him. Luke 15:18-20

Today's Devotional
A Prayer to Remember That Joy Is a Way of Life - Your Daily Prayer - May 21
The Bible commands us, "be joyful aways!"
Top Artists
Top Music Videos