'Great You Are' Jordan Smith Acoustic Performance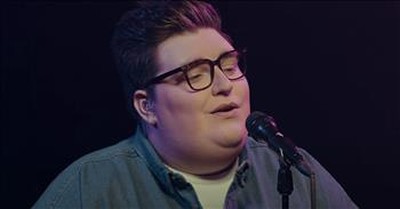 The Voice alumni Jordan Smith praises the Lord with a soul-stirring performance of 'Great You Are.' As you hear these words, be reminded just how powerful our Lord truly is.

"I won't let the rocks cry out
I'll shout it from the mountaintops
Let everything I am reveal
The glory of how great You are"
You may recognize Jordan Smith as the winner of season 9 of The Voice. His soul-filled performance won over the hearts of America. Since his time on the talent show, Jordan has continued to share his vocal talents through beautiful covers and stunning originals such as 'Stand In The Light' and 'Beauty Lies.'
Today, he's at the famous New Song Café for an acoustic performance of 'Great You Are.' And after the performance, enjoy the inspiring story behind the lyrics.
"I won't let a breath go by
And miss the chance to lift You high
Let everything I am declare
The story of how great You are"
Our God is truly the source of our light and our strength. And it is a welcome occasion to use these words to lift up His Name in praise and give thanks for all of our many blessings.
Who else is raising their hands up in the air in worship right now?
Acts 2:38 "And Peter said to them, "Repent and be baptized every one of you in the name of Jesus Christ for the forgiveness of your sins, and you will receive the gift of the Holy Spirit."
jordan-smith

5287 views

2021-05-03T15:08:19

source: Jordan Smith The Voice alumni Jordan Smith praises the Lord with a soul-stirring performance of 'Great You Are.' As you hear these words, be reminded just how powerful our Lord truly is.

"I won't let the rocks cry out
I'll shout it from the mountaintops
Let everything I am reveal
The glory of how great You are"

You may recognize Jordan Smith as the winner of season 9 of The Voice. His soul-filled performance won over the hearts of America. Since his time on the talent show, Jordan has continued to share his vocal talents through beautiful covers and stunning originals such as 'Stand In The Light' and 'Beauty Lies.'

Today, he's at the famous New Song Café for an acoustic performance of 'Great You Are.' And after the performance, enjoy the inspiring story behind the lyrics.

"I won't let a breath go by
And miss the chance to lift You high
Let everything I am declare
The story of how great You are"

Our God is truly the source of our light and our strength. And it is a welcome occasion to use these words to lift up His Name in praise and give thanks for all of our many blessings.

Who else is raising their hands up in the air in worship right now?

Acts 2:38 "And Peter said to them, "Repent and be baptized every one of you in the name of Jesus Christ for the forgiveness of your sins, and you will receive the gift of the Holy Spirit."

Today's Devotional
A Prayer to Remember That Joy Is a Way of Life - Your Daily Prayer - May 21
The Bible commands us, "be joyful aways!"
Top Artists
Top Music Videos