3-Year-Old Is Moved To Tears By Birthday Presents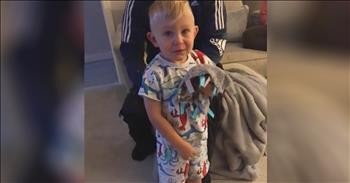 This sweet little boy cannot hold back the tears when he spots his birthday presents. 3-year-old Finlay was so surprised to wake up on his birthday and find a pile of presents. In fact, he was so stunned that he started to cry at the sight.

Just watch as he walks into the living room and exclaims "I can't even believe it. No way. No way there are lots more presents." That is when tears start to stream down little Finlay's face, much to the surprise of his parents. He is so overcome with joy that he just has to let his feelings out.
There is something so sweet about watching the innocence of a child and their delight in all things. As adults, we sometimes become jaded by material possessions and fail to appreciate some of the gifts we are given. Children have not faced the world or experienced everything yet, so they are still surprised by so many things.
Little Finlay is the perfect example of a toddler who is so thankful for all that he has been given. I'm sure his parents are so proud of his caring and appreciative nature. What a precious young boy.
Psalm 127:3-5 "Children are a heritage from the LORD, offspring a reward from him.
4Like arrows in the hands of a warrior are children born in one's youth. 5Blessed is the man whose quiver is full of them. They will not be put to shame when they contend with their opponents in court."
kidsarecute

22067 views

2018-12-19T14:54:44

source: Lauren Strafford This sweet little boy cannot hold back the tears when he spots his birthday presents. 3-year-old Finlay was so surprised to wake up on his birthday and find a pile of presents. In fact, he was so stunned that he started to cry at the sight.

Just watch as he walks into the living room and exclaims "I can't even believe it. No way. No way there are lots more presents." That is when tears start to stream down little Finlay's face, much to the surprise of his parents. He is so overcome with joy that he just has to let his feelings out.

There is something so sweet about watching the innocence of a child and their delight in all things. As adults, we sometimes become jaded by material possessions and fail to appreciate some of the gifts we are given. Children have not faced the world or experienced everything yet, so they are still surprised by so many things.

Little Finlay is the perfect example of a toddler who is so thankful for all that he has been given. I'm sure his parents are so proud of his caring and appreciative nature. What a precious young boy.

Psalm 127:3-5 "Children are a heritage from the LORD, offspring a reward from him.

4Like arrows in the hands of a warrior are children born in one's youth. 5Blessed is the man whose quiver is full of them. They will not be put to shame when they contend with their opponents in court."
Today's Devotional
A Prayer for Fulfillment - Your Daily Prayer - July 17
Top Artists