ICU Staff Line Hospital Hallway To Honor Organ Donor With 'Walk of Respect'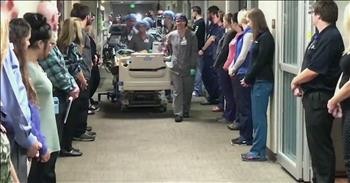 There was not a dry eye in the hospital as ICU Staffers joined family and friends for an organ donor's "Walk Of Respect".

Many times heroes save lives by giving up their own. In some instances, this could be by organ donation. These kind individuals see the value in the opportunity to bring new life to someone else by agreeing to be one the organ donor list should something happen to them. Organ donors deserve every bit of honor and respect when their time comes for donating.
Medical staff at St. Luke's Hospital in Idaho joined the family of one such organ donor in a touching moment of silence. The moving processional was captured on video. "All available staff" were called to the fourth floor of St. Luke's to line the hallways and show their appreciation. As the hospital bed holding a 53-year-old donor was wheeled toward surgery, the medical staff filled the unit hallways for a time they call the "Walk of Respect". The gentleman being honored was being moved to a surgical room where he was taken off of life support and able to have a much needed organ(s) donated.
This is a difficult time for many families who are seeing their loved ones in their final moments. It's not easy for the medical staff either. Often they interact with both families. ICU surgical unit staffers realize that this is a beautiful moment for those who are waiting for their family member to have a new lease on life by acquiring a much needed organ donation. But there is also a difficult journey being walked by the family and friends who are saying goodbye to their loved one. Standing in silence for this final "walk" is St. Luke's way of expressing gratitude for such a special selfless act and to show support for these families.
The opportunity to bless others in such a difficult time is one that should not be overlooked. From the medical staff supporting the families, to the friends, and the organ donors themselves, this is such a beautiful way to show love and concern for one ano
untilweflyaway

34145 views

2018-10-04T15:09:00

source: St. Luke's Health System There was not a dry eye in the hospital as ICU Staffers joined family and friends for an organ donor's "Walk Of Respect".

Many times heroes save lives by giving up their own. In some instances, this could be by organ donation. These kind individuals see the value in the opportunity to bring new life to someone else by agreeing to be one the organ donor list should something happen to them. Organ donors deserve every bit of honor and respect when their time comes for donating.

Medical staff at St. Luke's Hospital in Idaho joined the family of one such organ donor in a touching moment of silence. The moving processional was captured on video. "All available staff" were called to the fourth floor of St. Luke's to line the hallways and show their appreciation. As the hospital bed holding a 53-year-old donor was wheeled toward surgery, the medical staff filled the unit hallways for a time they call the "Walk of Respect". The gentleman being honored was being moved to a surgical room where he was taken off of life support and able to have a much needed organ(s) donated.

This is a difficult time for many families who are seeing their loved ones in their final moments. It's not easy for the medical staff either. Often they interact with both families. ICU surgical unit staffers realize that this is a beautiful moment for those who are waiting for their family member to have a new lease on life by acquiring a much needed organ donation. But there is also a difficult journey being walked by the family and friends who are saying goodbye to their loved one. Standing in silence for this final "walk" is St. Luke's way of expressing gratitude for such a special selfless act and to show support for these families.

The opportunity to bless others in such a difficult time is one that should not be overlooked. From the medical staff supporting the families, to the friends, and the organ donors themselves, this is such a beautiful way to show love and concern for one ano
Today's Devotional
A Prayer for the Filling of God's Power and Love - Your Daily Prayer - August 4
Top Artists