A Prayer When You Are Tempted with Jealousy
By Emily Rose Massey
"Now godliness with contentment is great gain. For we brought nothing into this world, [d]and it is certain we can carry nothing out. And having food and clothing, with these we shall be content" (1 Timothy 6:6-8, ESV).
Has interaction on social media ever created a heaviness in your heart, perhaps leading you to compare yourself to others? In my life, I seem to get this cloud that forms over me when I scroll through certain social media influencers' profiles. You know, the ones from somewhere in the Midwest with a thriving business, beautiful children, Magnolia-inspired farmhouse decor covering the pristine photos of their adorable home...and the lighting! Perfect lighting in these pictures...every single one of them! Absolutely stunning natural light in these posts! And I want to imitate it, not because I am inspired, but because quite frankly, I am jealous of these strangers on the internet! The cloud that looms over my head is this heaviness that I need to make my life look like this. I start to think I need what they have, and a feeling of "not enough" starts to creep up in my heart.
Recently, the Lord has been showing me through this restlessness how discontented I have become through social media, and that is something I am working through with the Holy Spirit on how I can guard my heart from these types of entanglements that bring distraction and discontentment. My eyes have drifted upon lesser things, and it has affected my heart in a great way. Comparison that leads to envy and jealousy has been a trap of the enemy since creation. The motive behind Adam and Eve's disobedience was comparison, which led to covetousness, which led to pride, which led to selfishness, which led to ungratefulness for what God had already provided (all rooted in fear).
Are you in fear? Then you are not in faith, believing God at His Word and fully trusting Him that He has given you exactly what you need. Anything that is not of faith is sin (Romans 14:23). When we compare ourselves with another, we are saying we would do a better job planning out our lives than our Creator, the sovereign Most High, acting like Satan who fell and caused Adam and Eve to fall. Whoa, that is a dangerous place to be!
When we are wrestling with these heart issues and sin, we often need a perspective shift, and this won't come from social media, but the Word of God is what will bring clarity when our minds and hearts become clouded with worldliness that causes us to become jealous of others.
The Apostle Paul reminds his spiritual son Timothy in his first letter to him to keep his mind on eternal and spiritual matters:
"Now godliness with contentment is great gain. For we brought nothing into this world, and it is certain we can carry nothing out. And having food and clothing, with these we shall be content" (1 Timothy 6:6-8, ESV).
Our Heavenly Father ensures that birds are fed; surely, He will take care of us! If we have food and clothing, we truly don't need anything else; All else is comfort and gifts from our Father. Any material blessing beyond food and clothing that the Lord graces us with should cause us to worship and rejoice in thankfulness for His rich mercy and love towards us as His children.
We are all guilty of comparing our lives to someone else's life at one point or another and allowing it to cause some form of jealousy. The only way out is to repent and renew your mind with the Word of God. Instead of fixating on others' lives, we must keep our eyes on Jesus and His Word. If you cling to Him and abide in Him, you will remain full of His love, joy, and peace- the only things that will bring true fulfillment and contentment. You won't want anything else than what He has given you; His perfect, eternal promises and tender, Fatherly care for you will be more than enough. Let's lift our gaze and thank Him for what He has already so richly provided for us in Christ Jesus.
Let's pray:
Heavenly Father,
Thank You for providing everything that I need (not want). You have provided food and clothing, and in this, I need to be content. Contentment with godliness is great gain in Your eyes. I need Your help to find rest in contentment; I need Your help to remain grateful when my eyes wander onto others' lives causing me to become jealous. I trust that Your plan for my life is best, which includes all earthly possessions that I am given. I fix my eyes upon You and Your Word today. Thank You for Your Holy Spirit that convicts my heart when I become jealous or envious of others. Help me to prioritize my time and create boundaries, especially regarding my social media usage. I want to glorify You in my thoughts and actions. In Jesus' name, amen.
Photo credit: ©Getty Images/Candy Retriever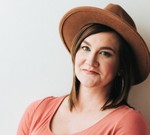 Emily Massey began writing short stories and poetry as a little girl, entered the blogging world in her early 20s, and published her first book in 2015. She enjoys being a stay-at-home momma while still being able to pursue her passion as a writer. Believing she has been forgiven much, she loves much, and desires to point others to Christ and His redemptive and transforming power, especially by sharing truth found in God's written Word. If you would like to connect with Emily, you can visit www.emilyrosemassey.com
Want more Your Daily Prayer? We also have a podcast! This podcast is different than the written devotional you just read, but carries the same commitment to a closer look at Scripture each day. You can find out more by clicking the link below!
Now that you've prayed, are you in need of someone to pray for YOU? Click the button below!
Visit iBelieve.com for more inspiring prayer content.