A Prayer to Find Comfort in God's Protective Gaze
By Ashley Moore
"The LORD is my strength and my shield; in him my heart trusts, and I am helped; my heart exults, and with my song I give thanks to him." - Psalm 28:7 ESV
A few years ago, I snapped a picture of a cloud that oddly resembled a giant eye in the sky. Once I saw it, I could not help but think God was watching with a careful and attentive gaze. Now that picture often cycles itself through a display of featured photos on my phone, serving as a reminder God sees me. The days I'm most comforted by this thought are when I'm struggling!
What about you? Is there something that reminds you of God's careful protection and watchful eye over you? Maybe on a day when you were being inundated with lies and feared the enemy, you saw a flock of sparrows reminding you God sees and cares for your every need. Or perhaps you were fighting with your friend, and a person from church prayed a specific, spirit-led word that spoke to your problem without her knowing the details. Or maybe on a day when you couldn't afford to pay an overdue bill, the Lord provided the amount you needed through an anonymous donor.
In the Bible, God refers to Himself as the Good Shepherd, who lays down His life for the sheep. And He says we are the sheep of His pasture (John 10:11-14). Sheep are rather defenseless animals. They do not have sharp teeth or claws to ward off predators. They are covered in heavy wool that makes them susceptible to overheating if not groomed regularly and vulnerable to drowning if they fall into deep waters. They are known for getting themselves into precarious situations. And they need a shepherd's constant care and protection to stay safe and alive.
All the above scenarios are ways God lovingly communicates His willingness to protect and help us. He reminds us we can trust Him to care for us, especially when we are afraid and struggling with doubt and worry. The Good Shepherd protects His flock, even at the expense of His own life! God sees us. He is our source of strength and our shield from the enemy's fiery darts. He longs for us to come to Him when we need help. We can trust Him, and even when we are afraid, we can sing praises of thanksgiving, knowing our hearts are completely safe and secure in His tender, strong, shepherding hands (Psalm 28:7).
Let's pray:
Dear Lord,
Thank You for reminding us we are vulnerable without you. We face many dangers, and we are defenseless without You! But Lord, with You, we are safe. You don't leave us helpless and defenseless. We are protected. You act as a shield, and You give us strength. You are the Good Shepherd who knows His sheep. You care for us. You watch over us. You never leave us and always have Your loving gaze locked on us. Forgive us when we wrongly think about how you watch over us. Lord, sadly some of us feel as if You are an unloving force just waiting for us to mess up. But Lord, that is not how You look upon us at all. You delight in us. And you sent Your Son to cover up all our sins and blemishes. When we are in Christ, You don't see our mistakes. You see Your spotless lamb. You delight in us like a father delights in His child. And nothing can separate us from Your Love. Thank You for protecting us. Thank You that even though danger lurks around us, we are so safe we can sing! Thank You for being completely trustworthy and a secure place to run when we are afraid. We love You and trust You! In Jesus' name, Amen.
Photo Credit: Unsplash/Jelleke Vanooteghem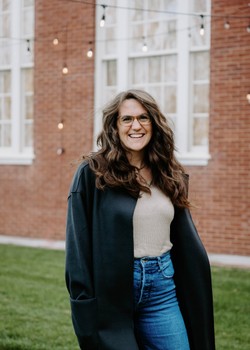 Ashley Moore is a writer and host of be the two™podcast. She is known for her relatability and for passionately writing and speaking about mental, emotional, and relational health from a biblical worldview. She has written for Kingdom Edge Magazine, Guideposts, Crosswalk, The Secret Place, enLIVEn, The Bubbling Brook and more. If Ashley isn't writing, you can find her with her husband, three children, and two floppy-eared Goldens on their south Georgia farmland. The best way to connect with Ashley is to grab a free devotional or Bible study and join her newsletter at free.ashleynicolemoore.com.
LISTEN to More Christmas Prayers on LifeAudio
Teach Us to Pray is a FREE prayer podcast hosted by iBelieve writer Christina Patterson. Each week, she gives you practical, real-life tips on how to grow your faith and relationship with God through the power of prayer. To listen to her episode on What to Pray in the Morning for a Worry-Free Day, click below!

Now that you've prayed, are you in need of someone to pray for YOU? Click the button below!
Visit iBelieve.com for more inspiring prayer content.