Woman Sings 'Amazing Grace' To Dying Husband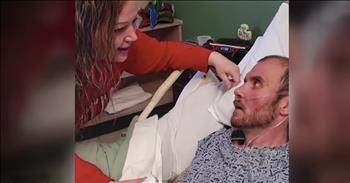 It was a tearjerker captured on camera when this woman sings the classic hymn 'Amazing Grace' to dying husband. Just days before he passed away, Danielle Gibson beautifully sang the touching words to her husband, Tony, as he gazed at her from his hospital bed.

"Amazing Grace, How sweet the sound
That saved a wretch like me
I once was lost, but now am found
T'was blind but now I see
T'was Grace that taught my heart to fear
And Grace, my fears relieved
How precious did that grace appear
The hour I first believed"
Tony battled Creutzfeldt-Jakob disease, a rare and incurable disorder that can cause dementia, limited mobility and memory issues. Danielle describes the heartbreaking disease as the human form of mad-cow disease. The condition came on quickly and, within a year, Tony was placed in an assisted living facility. Near the end, not much could calm him down. But during this special moment, Danielle started to sing 'Amazing Grace' and Tony could not take his eyes off of her. Danielle said that this was his favorite hymn.
Sadly, Tony passed away just a few days after this video was taken, leaving behind his wife and four daughters. Danielle hopes that by sharing this video and Tony's story, that more recognition will be placed on Creutzfeldt-Jakob disease and finding a cure. We will continue to keep this family in our prayers as they weather this difficult storm.
Revelation 21:4 "He will wipe away every tear from their eyes, and death shall be no more, neither shall there be mourning, nor crying, nor pain anymore, for the former things have passed away."
Singing his favorite hymn has such a calming affect #AmazingGrace #CureCJD 💜💜💜

Posted by Danielle Gibson on Sunday, January 27, 2019
godtube-inspiration

23781 views

2019-02-14T15:10:32

source: Danielle Gibson It was a tearjerker captured on camera when this woman sings the classic hymn 'Amazing Grace' to dying husband. Just days before he passed away, Danielle Gibson beautifully sang the touching words to her husband, Tony, as he gazed at her from his hospital bed.

"Amazing Grace, How sweet the sound
That saved a wretch like me
I once was lost, but now am found
T'was blind but now I see
T'was Grace that taught my heart to fear
And Grace, my fears relieved
How precious did that grace appear
The hour I first believed"

Tony battled Creutzfeldt-Jakob disease, a rare and incurable disorder that can cause dementia, limited mobility and memory issues. Danielle describes the heartbreaking disease as the human form of mad-cow disease. The condition came on quickly and, within a year, Tony was placed in an assisted living facility. Near the end, not much could calm him down. But during this special moment, Danielle started to sing 'Amazing Grace' and Tony could not take his eyes off of her. Danielle said that this was his favorite hymn.

Sadly, Tony passed away just a few days after this video was taken, leaving behind his wife and four daughters. Danielle hopes that by sharing this video and Tony's story, that more recognition will be placed on Creutzfeldt-Jakob disease and finding a cure. We will continue to keep this family in our prayers as they weather this difficult storm.

Revelation 21:4 "He will wipe away every tear from their eyes, and death shall be no more, neither shall there be mourning, nor crying, nor pain anymore, for the former things have passed away."
Today's Devotional
A Prayer for When Others Have What You Want - Your Daily Prayer - February 23
Top Artists