Hillary Scott, Tori Kelley, Kirk Franklin Wow Audience At CMT 2018 Awards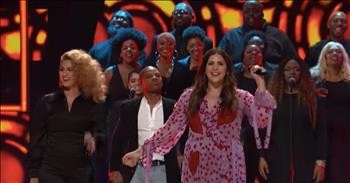 Fans were treated to a truly special performance when a blend of country, pop, and gospel artists joined forces. Female vocalists Hillary Scott and Tori Kelly took the stage at the CMT Artists Of The Year Event. Joined by gospel powerhouse Kirk Franklin and choir midway through their medley performance.

She grew up on a side of the road
Where the church bells ring and strong love grows
She grew up good
She grew up slow
Like American honey"
Opening with "American Honey", Hillary Scott (Lady Antebellum) began the performance with Tori Kelly joining in for the second verse. The two continued to duet the popular Lady Antebellum song before transitioning into the chorus of Kelly's "Never Alone".
"I've cried many rivers
I've walked through some pain
I've seen my world crumble
And I've carried the shame
But I know somebody, He calls me His own
I can hear heaven singing out
Oh-oh-oh, you're never alone
Oh-oh-oh, you're never alone"
As they continued the inspirational song, the backdrop opened to reveal a gospel choir and none other than gospel great, Kirk Franklin bringing God's truth in spoken word:
"There's not a hole too deep that God's love is not deeper still!"
But the best was yet to come when the trio broke into fan favorite, "Oh Happy Day". The crowd was quickly on their feet clapping and singing along! We were ready for some church!
"Oh happy day (oh happy day)
Oh happy day (oh happy day)
When Jesus washed (when Jesus washed)
When Jesus washed (when Jesus washed)
When Jesus washed (when Jesus washed)
He washed my sins away (oh happy day)
Oh happy day (oh happy day)"
hillary-scott

10472 views

2018-11-09T10:12:00

source: CMT Fans were treated to a truly special performance when a blend of country, pop, and gospel artists joined forces. Female vocalists Hillary Scott and Tori Kelly took the stage at the CMT Artists Of The Year Event. Joined by gospel powerhouse Kirk Franklin and choir midway through their medley performance.

She grew up on a side of the road
Where the church bells ring and strong love grows
She grew up good
She grew up slow
Like American honey"

Opening with "American Honey", Hillary Scott (Lady Antebellum) began the performance with Tori Kelly joining in for the second verse. The two continued to duet the popular Lady Antebellum song before transitioning into the chorus of Kelly's "Never Alone".

"I've cried many rivers
I've walked through some pain
I've seen my world crumble
And I've carried the shame
But I know somebody, He calls me His own
I can hear heaven singing out
Oh-oh-oh, you're never alone
Oh-oh-oh, you're never alone"

As they continued the inspirational song, the backdrop opened to reveal a gospel choir and none other than gospel great, Kirk Franklin bringing God's truth in spoken word:

"There's not a hole too deep that God's love is not deeper still!"

But the best was yet to come when the trio broke into fan favorite, "Oh Happy Day". The crowd was quickly on their feet clapping and singing along! We were ready for some church!

"Oh happy day (oh happy day)
Oh happy day (oh happy day)
When Jesus washed (when Jesus washed)
When Jesus washed (when Jesus washed)
When Jesus washed (when Jesus washed)
He washed my sins away (oh happy day)
Oh happy day (oh happy day)"
Today's Devotional
A Prayer for Fear and Anxiety - Your Daily Prayer - July 18
Top Artists