Bluegrass Version of 'Victory in Jesus' is A Toe Tapper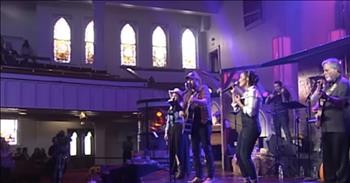 First Baptist Church in Dallas TX has us tappin' our toes to this wonderful classic hymn. "Victory In Jesus" always reminds us of summer gospel sing nights where all the generations would gather together for a night of worship!

While many may think of this as their grandparent's church music, this hymn holds just as true today as it ever has! What a Victory to be able to sing out God's promises and to have a Hope for the future. No matter how dark the world becomes we as believers already have the victory!
"I heard an old, old story,
How a Savior came from glory,
How He gave His life on Calvary
To save a wretch like me;
I heard about His groaning,
Of His precious blood's atoning,
Then I repented of my sins
And won the victory."
We hope you've won the victory and given your heart to the Father! What a loving God we serve who sent His Son to pardon us from sin and death! While we love this bluegrass, upbeat version of 'Victory In Jesus' don't let that detract from the importance of the lyrics! We hope you worship along with the chorus and can shout from the top of your voice that you indeed have the victory and serve the risen Lord, your Savior forever!
"O victory in Jesus,
My Savior, forever.
He sought me and bought me
With His redeeming blood;
He loved me ere I knew Him
And all my love is due Him,
He plunged me to victory,
Beneath the cleansing flood."
godtube-inspiration

43398 views

2018-11-16T09:52:00

source: First Baptist Dallas First Baptist Church in Dallas TX has us tappin' our toes to this wonderful classic hymn. "Victory In Jesus" always reminds us of summer gospel sing nights where all the generations would gather together for a night of worship!

While many may think of this as their grandparent's church music, this hymn holds just as true today as it ever has! What a Victory to be able to sing out God's promises and to have a Hope for the future. No matter how dark the world becomes we as believers already have the victory!

"I heard an old, old story,
How a Savior came from glory,
How He gave His life on Calvary
To save a wretch like me;
I heard about His groaning,
Of His precious blood's atoning,
Then I repented of my sins
And won the victory."

We hope you've won the victory and given your heart to the Father! What a loving God we serve who sent His Son to pardon us from sin and death! While we love this bluegrass, upbeat version of 'Victory In Jesus' don't let that detract from the importance of the lyrics! We hope you worship along with the chorus and can shout from the top of your voice that you indeed have the victory and serve the risen Lord, your Savior forever!

"O victory in Jesus,
My Savior, forever.
He sought me and bought me
With His redeeming blood;
He loved me ere I knew Him
And all my love is due Him,
He plunged me to victory,
Beneath the cleansing flood."
Today's Devotional
A Prayer for Strength and Encouragement - Your Daily Prayer - March 19
Top Artists