'Highs and Lows'- Hillsong Young And Free Acoustic Performance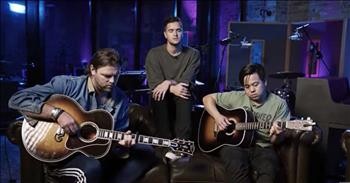 "Highs and lows, Lord,

You're with me either way it goes,
Should I rise or should I fall,
Even so, Lord
Your mercy is an even flow,
You're too good to let me go"
Hillsong Young & Free members Joel Houston, Aodhan King and Ben Tan have worked together for several years bringing worship music to youth. Now, as they are maturing in their faith together, they realized a need for a deeper, thoughtful album. With their release of "III" listeners will find the same meaningful worship that Hillsong groups are known for, but perhaps with a newfound perspective.
"Highs and Lows" was created long before the lyrics were formed. Based on Psalm 139, this moving worship song reminds that wherever we go, God is not far. There is nothing that our God does not already know about us. Even when we are in our darkest moments, the Heavenly Father is there to guide us, strengthen us, and offer comfort.
"When it feels like the dark ,
Lingers longer than the night ,
When the shadows feel like giants ,
Are You chasing me down?"
The song came from a place of frustrations and questions about life and wanting to encourage others to 'hold on'. It's easy to be overwhelmed and feel somewhat consumed in the world. Writer Joel Houston shared his thoughts on the song's premise "...Living in a world where... our thoughts are so consumed just by information and the world around and about us...I think a lot of people are struggling with the weight of that."
We may know in our heads that God is with us but the connection of a simple reminder of His faithfulness, put to music, is truly beautiful.
We can know all the answers but it can still feel like you're in a low season...in those moments I think that's where the metal gets tested when it comes to our spirituality, who God is and how much we trust Him. There's no easy answers."
hillsong-young-and-free

3773 views

2018-09-27T09:26:00

source: Worship Together "Highs and lows, Lord,
You're with me either way it goes,
Should I rise or should I fall,
Even so, Lord
Your mercy is an even flow,
You're too good to let me go"

Hillsong Young & Free members Joel Houston, Aodhan King and Ben Tan have worked together for several years bringing worship music to youth. Now, as they are maturing in their faith together, they realized a need for a deeper, thoughtful album. With their release of "III" listeners will find the same meaningful worship that Hillsong groups are known for, but perhaps with a newfound perspective.

"Highs and Lows" was created long before the lyrics were formed. Based on Psalm 139, this moving worship song reminds that wherever we go, God is not far. There is nothing that our God does not already know about us. Even when we are in our darkest moments, the Heavenly Father is there to guide us, strengthen us, and offer comfort.

"When it feels like the dark ,
Lingers longer than the night ,
When the shadows feel like giants ,
Are You chasing me down?"

The song came from a place of frustrations and questions about life and wanting to encourage others to 'hold on'. It's easy to be overwhelmed and feel somewhat consumed in the world. Writer Joel Houston shared his thoughts on the song's premise "...Living in a world where... our thoughts are so consumed just by information and the world around and about us...I think a lot of people are struggling with the weight of that."

We may know in our heads that God is with us but the connection of a simple reminder of His faithfulness, put to music, is truly beautiful.

We can know all the answers but it can still feel like you're in a low season...in those moments I think that's where the metal gets tested when it comes to our spirituality, who God is and how much we trust Him. There's no easy answers."
Today's Devotional
A Prayer from Psalm 91 - Your Daily Prayer - January 26
Top Artists