Reba McEntire And The Isaacs Perform 'What Child Is This'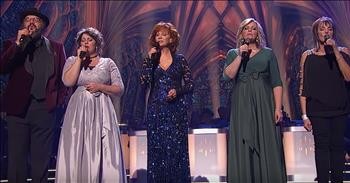 Recently, country music legend Reba McEntire recorded the classic Christmas hymn 'What Child Is This' with The Isaacs.

'What Child is this
Who laid to rest
On Mary's lap is sleeping?
Whom Angels greet with anthems sweet,
While shepherds watch are keeping?'
Reba McEntire is one of the most well known names in country music and The Isaacs are an award-winning family gospel group. Today, they are performing this special hymn at the annual CMA Country Christmas special. This one-of-a-kind event brings together top artists to perform all of our favorite Christmas tunes. But when McEntire and The Isaacs stepped on stage, I knew this would be a stand out. Together, all of their voices combine in perfect harmony to sing out the words proclaiming the birth of our Savior.
'This, this is Christ the King,
Whom shepherds guard and Angels sing
Haste, haste, to bring Him laud,
The Babe, the Son of Mary.'
It is truly amazing to hear all of this talent come together to spread the Christmas spirit. When you listen to the powerful lyrics of 'What Child Is This,' it is the perfect reminder of the real reason for the season. Christmas is about the birth of Jesus Christ and how He came to save us all. That is definitely something to sing about.
John 1:14 "The Word became flesh and made his dwelling among us. We have seen his glory, the glory of the one and only Son, who came from the Father, full of grace and truth."
the-isaacs

3996 views

2018-12-17T13:51:27

source: CMAVEVO Recently, country music legend Reba McEntire recorded the classic Christmas hymn 'What Child Is This' with The Isaacs.

'What Child is this
Who laid to rest
On Mary's lap is sleeping?
Whom Angels greet with anthems sweet,
While shepherds watch are keeping?'

Reba McEntire is one of the most well known names in country music and The Isaacs are an award-winning family gospel group. Today, they are performing this special hymn at the annual CMA Country Christmas special. This one-of-a-kind event brings together top artists to perform all of our favorite Christmas tunes. But when McEntire and The Isaacs stepped on stage, I knew this would be a stand out. Together, all of their voices combine in perfect harmony to sing out the words proclaiming the birth of our Savior.

'This, this is Christ the King,
Whom shepherds guard and Angels sing
Haste, haste, to bring Him laud,
The Babe, the Son of Mary.'

It is truly amazing to hear all of this talent come together to spread the Christmas spirit. When you listen to the powerful lyrics of 'What Child Is This,' it is the perfect reminder of the real reason for the season. Christmas is about the birth of Jesus Christ and how He came to save us all. That is definitely something to sing about.
John 1:14 "The Word became flesh and made his dwelling among us. We have seen his glory, the glory of the one and only Son, who came from the Father, full of grace and truth."
Today's Devotional
A Prayer of Lament from Habakkuk - Your Daily Prayer - November 20
Top Artists