Candace Cameron Bure On Her Faith In Hollywood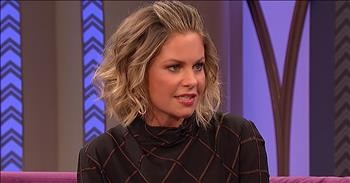 Christian actress Candace Cameron Bure is known all over Hollywood for her faith. She never shies away from discussing her love for the Lord and she has used her elevated platform to share His good news. But that doesn't mean it's always been easy for the former co-host of The View.

On a recent interview from The Wendy Williams Show, Candace opens up about experiencing discrimination in the industry because of her faith. "I've been booked for things and then I would get canceled a few days before." Candace went on to say that bookers would realize who she was and wouldn't want her at their event. But she never backed down from her beliefs and continued to share her religious beliefs. Over the years, Candace became more and more open about her faith and made a name for herself as a family-friendly entertainer.
"I've chosen to be in family entertainment. That has been a very intentional decision on my part. I've always wanted to do family entertainment. I've never wanted to kind of go down a dark road even as an actress."
Today, Candace stars on the hit television show, Fuller House, and you can regularly find her in Hallmark movies. It seems she has finally found her place in Hollywood and is happier than ever. "I have experienced discrimination in the faith department, for sure, in my career, but I don't experience it as much now. And I think because so many people know me for it, so I think they look to me for my faith."
godtube-inspiration

39601 views

2018-11-30T09:58:00

source: The Wendy Williams Show Christian actress Candace Cameron Bure is known all over Hollywood for her faith. She never shies away from discussing her love for the Lord and she has used her elevated platform to share His good news. But that doesn't mean it's always been easy for the former co-host of The View.

On a recent interview from The Wendy Williams Show, Candace opens up about experiencing discrimination in the industry because of her faith. "I've been booked for things and then I would get canceled a few days before." Candace went on to say that bookers would realize who she was and wouldn't want her at their event. But she never backed down from her beliefs and continued to share her religious beliefs. Over the years, Candace became more and more open about her faith and made a name for herself as a family-friendly entertainer.

"I've chosen to be in family entertainment. That has been a very intentional decision on my part. I've always wanted to do family entertainment. I've never wanted to kind of go down a dark road even as an actress."

Today, Candace stars on the hit television show, Fuller House, and you can regularly find her in Hallmark movies. It seems she has finally found her place in Hollywood and is happier than ever. "I have experienced discrimination in the faith department, for sure, in my career, but I don't experience it as much now. And I think because so many people know me for it, so I think they look to me for my faith."
Today's Devotional
A Prayer of Praise for Worn Out Bibles - Your Daily Prayer - September 19I live in this book, with this book, and by this book. Like our verse in Hebrews says, God's word to me is "alive and active."
Top Artists