'The Least Of These' - Stephen Baldwin Movie About Martyred Missionary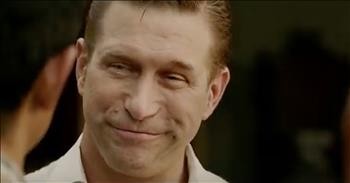 Stephen Baldwin stars in the upcoming film 'The Least Of These' set to be released in 2019. The movie showcases the true story of Graham Staines, a Christian missionary in India who lost his life in the late 1990s. Staines and his wife, Gladys, worked with leprosy patients and worked to share the message of God with others. They met great resistance in the area as some Hindu groups thought that the couple was illegally converting those with leprosy to Christianity.

The film focuses on a journalist who is working undercover to determine if this theory is true. Ultimately, Staines and his two young boys were killed in India, but his story still holds an impact today. This powerful movie was shot on location in India and also features Shari Rigby and Bollywood star Sharman Joshi. Going along with 'The Least Of These' is a brilliant soundtrack featuring award-winning names such as Michael W. Smith, Nicole C Mullen and Toby Mac.
The movie will be released on February 1, 2019 to commemorate 20 years since Graham Staines was martyred. After seeing this trailer, it's obvious that this film is going to be a powerful statement of standing up for Christ and the resistance that can be felt around the world. It's not always popular, or safe, to proclaim the Word of God, but we know in our hearts that His love is the way to salvation and giving our hearts to Him will save us all.
2 Corinthians 5:20 "We are therefore Christ's ambassadors, as though God were making his appeal through us. We implore you on Christ's behalf: Be reconciled to God."
godtube-movie-trailers

22698 views

2018-12-21T10:08:52

source: The Least of These Stephen Baldwin stars in the upcoming film 'The Least Of These' set to be released in 2019. The movie showcases the true story of Graham Staines, a Christian missionary in India who lost his life in the late 1990s. Staines and his wife, Gladys, worked with leprosy patients and worked to share the message of God with others. They met great resistance in the area as some Hindu groups thought that the couple was illegally converting those with leprosy to Christianity.

The film focuses on a journalist who is working undercover to determine if this theory is true. Ultimately, Staines and his two young boys were killed in India, but his story still holds an impact today. This powerful movie was shot on location in India and also features Shari Rigby and Bollywood star Sharman Joshi. Going along with 'The Least Of These' is a brilliant soundtrack featuring award-winning names such as Michael W. Smith, Nicole C Mullen and Toby Mac.

The movie will be released on February 1, 2019 to commemorate 20 years since Graham Staines was martyred. After seeing this trailer, it's obvious that this film is going to be a powerful statement of standing up for Christ and the resistance that can be felt around the world. It's not always popular, or safe, to proclaim the Word of God, but we know in our hearts that His love is the way to salvation and giving our hearts to Him will save us all.

2 Corinthians 5:20 "We are therefore Christ's ambassadors, as though God were making his appeal through us. We implore you on Christ's behalf: Be reconciled to God."
Today's Devotional
A Prayer for When Life Doesn't Turn Out the Way You Expect - Your Daily Prayer - June 18
Top Artists