'The Old Rugged Cross' Live Performance From Alabama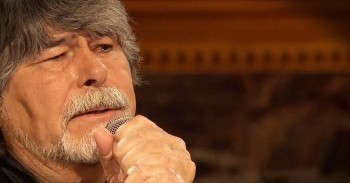 Country music sensations, Alabama, perform a soul-stirring rendition of the beloved hymn 'The Old Rugged Cross.'

"On a hill far away stood an old rugged cross
The emblem of suffering and shame
And I love that old cross where the dearest and best
For a world of lost sinners was slain"
There's something about classic hymns and country music that always goes together so perfectly. And Alabama knows all about worshipping the Lord through song.
'The Old Rugged Cross' is one of those hymns that is a staple in every church service. Hearing the talented voices of Alabama sing this special song truly gives the words an even bigger impact.
"So I'll cherish the old rugged cross
Till my trophies at last I lay down
And I will cling to the old rugged cross
And exchange it some day for a crown"
God made the ultimate sacrifice for us when He sent His only Son to Earth to die for our sins. Because of this gift, we are now all forgiven and free to live out our days in Heaven.
The death on the cross paved the way to our salvation and it's something we should cherish and give thanks for every day.
1 Peter 2:24-25 "He himself bore our sins in his body on the tree, that we might die to sin and live to righteousness. By his wounds you have been healed. For you were straying like sheep, but have now returned to the Shepherd and Overseer of your souls."
Embed

alabama

944120 views

2015-09-11T10:07:00

Country music sensations, Alabama, perform a soul-stirring rendition of the beloved hymn 'The Old Rugged Cross.'

"On a hill far away stood an old rugged cross
The emblem of suffering and shame
And I love that old cross where the dearest and best
For a world of lost sinners was slain"

There's something about classic hymns and country music that always goes together so perfectly. And Alabama knows all about worshipping the Lord through song.

'The Old Rugged Cross' is one of those hymns that is a staple in every church service. Hearing the talented voices of Alabama sing this special song truly gives the words an even bigger impact.

"So I'll cherish the old rugged cross
Till my trophies at last I lay down
And I will cling to the old rugged cross
And exchange it some day for a crown"

God made the ultimate sacrifice for us when He sent His only Son to Earth to die for our sins. Because of this gift, we are now all forgiven and free to live out our days in Heaven.

The death on the cross paved the way to our salvation and it's something we should cherish and give thanks for every day.

1 Peter 2:24-25 "He himself bore our sins in his body on the tree, that we might die to sin and live to righteousness. By his wounds you have been healed. For you were straying like sheep, but have now returned to the Shepherd and Overseer of your souls."
Today's Devotional
A Prayer for a Strong Marriage - Your Daily Prayer - August 9
Top Artists