The Isaacs Perform 'The Lord's Prayer' At The Grand Ole Opry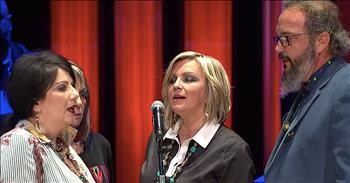 Family group The Isaacs perform a live rendition of 'The Lord's Prayer' at the Grand Ole Opry.

These words of worship remind us of the many blessings and grace that we receive from God each and every day. This prayer gives thanks to His Name.
"Our Father, which art in heaven,
Hallowed be thy Name.
Thy Kingdom come.
Thy will be done in earth,
As it is in heaven."
The Isaacs are an award-winning family gospel group. For decades, they're been using their unique bluegrass sound to spread God's message of love and salvation. Today, they're performing on one of the most popular country music stages of all time.
The Grand Ole Opry is known for it's famous names and legendary vocal performances. Now, worship to our Lord is at the center of this iconic stage. It is truly amazing to hear all of this talent come together to spread the Word of God.
Who else is singing along to The Isaacs and their musical rendition of 'The Lord's Prayer?'
1 Chronicles 16:23-31 "23 Sing to the LORD, all the earth; proclaim his salvation day after day. 24 Declare his glory among the nations, his marvelous deeds among all peoples. 25 For great is the LORD and most worthy of praise; he is to be feared above all gods. 26 For all the gods of the nations are idols, but the LORD made the heavens. 27 Splendor and majesty are before him; strength and joy are in his dwelling place."
the-isaacs

3193 views

2019-10-28T15:49:51

source: The Isaacs . Family group The Isaacs perform a live rendition of 'The Lord's Prayer' at the Grand Ole Opry.

These words of worship remind us of the many blessings and grace that we receive from God each and every day. This prayer gives thanks to His Name.

"Our Father, which art in heaven,
Hallowed be thy Name.
Thy Kingdom come.
Thy will be done in earth,
As it is in heaven."

The Isaacs are an award-winning family gospel group. For decades, they're been using their unique bluegrass sound to spread God's message of love and salvation. Today, they're performing on one of the most popular country music stages of all time.

The Grand Ole Opry is known for it's famous names and legendary vocal performances. Now, worship to our Lord is at the center of this iconic stage. It is truly amazing to hear all of this talent come together to spread the Word of God.

Who else is singing along to The Isaacs and their musical rendition of 'The Lord's Prayer?'

1 Chronicles 16:23-31 "23 Sing to the LORD, all the earth; proclaim his salvation day after day. 24 Declare his glory among the nations, his marvelous deeds among all peoples. 25 For great is the LORD and most worthy of praise; he is to be feared above all gods. 26 For all the gods of the nations are idols, but the LORD made the heavens. 27 Splendor and majesty are before him; strength and joy are in his dwelling place."

Suggested For You
---
Related Videos
---
Today's Devotional
A Prayer for Communication During Conflict - Your Daily Prayer - August 13
Top Artists