AGT Winner Kodi Lee Performs Tribute To TobyMac's Late Son Truett Foster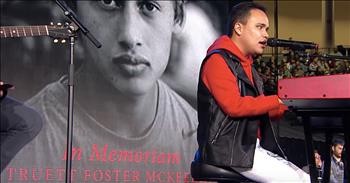 America's Got Talent winner Kodi Lee performs a beautiful musical tribute to TobyMac's late son, Truett Foster.

On October 23, 2019, the 21-year-old son of Christian superstar TobyMac passed away. Truett was an aspiring artist and had already released songs on his own along with collaborations with his father. His death came as a surprise to all and when the news broke, the world's heart broke.
AGT alumni Kodi Lee was set to perform at Liberty University's convocation when they received the sad news. TobyMac is a graduate of Liberty and has performed at convocation numerous times.
We learned that at his last performance, he shared a special song that Truett was working on. Liberty leaders decided to play the song for Kodi Lee and it led to a beautiful introduction into the Christian song 'I Can Only Imagine.'
"I can only imagine when that day comes
When I find myself standing in the Son
I can only imagine when all I would do is forever
Forever worship You
I can only imagine
I can only imagine"
It was truly an emotional moment as Kodi Lee belted out these beautiful words. Our hearts ache for TobyMac and his family as they walk through this difficult path but we rest easier knowing that Truett in now safe in the arms of the Lord.
Revelation 21:4-5 "4 He will wipe every tear from their eyes. There will be no more death' or mourning or crying or pain, for the old order of things has passed away." 5 He who was seated on the throne said, "I am making everything new!" Then he said, "Write this down, for these words are trustworthy and true."
GodTube-Music

22387 views

2019-10-28T13:25:56

source: Liberty University America's Got Talent winner Kodi Lee performs a beautiful musical tribute to TobyMac's late son, Truett Foster.

On October 23, 2019, the 21-year-old son of Christian superstar TobyMac passed away. Truett was an aspiring artist and had already released songs on his own along with collaborations with his father. His death came as a surprise to all and when the news broke, the world's heart broke.

AGT alumni Kodi Lee was set to perform at Liberty University's convocation when they received the sad news. TobyMac is a graduate of Liberty and has performed at convocation numerous times.

We learned that at his last performance, he shared a special song that Truett was working on. Liberty leaders decided to play the song for Kodi Lee and it led to a beautiful introduction into the Christian song 'I Can Only Imagine.'

"I can only imagine when that day comes
When I find myself standing in the Son
I can only imagine when all I would do is forever
Forever worship You
I can only imagine
I can only imagine"

It was truly an emotional moment as Kodi Lee belted out these beautiful words. Our hearts ache for TobyMac and his family as they walk through this difficult path but we rest easier knowing that Truett in now safe in the arms of the Lord.

Revelation 21:4-5 "4 He will wipe every tear from their eyes. There will be no more death' or mourning or crying or pain, for the old order of things has passed away." 5 He who was seated on the throne said, "I am making everything new!" Then he said, "Write this down, for these words are trustworthy and true."

Today's Devotional
A Prayer for Strength to Endure - Your Daily Prayer - May 29
Top Artists