Jeremy Camp Shares Story Behind New Film 'I Still Believe'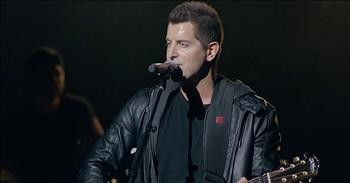 Christian artist Jeremy Camp shares the story behind the powerful new movie based on his life, titled 'I Still Believe.'

Jeremy lost his first wife to cancer, but she left a legacy that continues to inspire and bring others to Christ. While grappling with her death, the Christian artist penned his hit song, 'I Still Believe.'
"Scattered words and empty thoughts
Seem to pour from my heart
I've never felt so torn before
Seems I don't know where to start
But it's now that I feel Your grace falls like rain
From every fingertip, washing away my pain"
The movie will follow Jeremy's upbringing and the impact of his first wife's death on his career and walk with God. The film features the same production team who made the 2018 hit Christian film, 'I Can Only Imagine' starring Dennis Quaid that shared the story behind MercyMe's song with the same name.
Actor KJ Apa, of the TV show Riverdale, will star as Jeremy Camp in the film. Forrest Gump actor Gary Sinise is also set to star, and Shania Twain will star as Jeremy's mother.
"I still believe in Your faithfulness
I still believe in Your truth
I still believe in Your holy word
Even when I don't see, I still believe"
The 'I Still Believe' film is scheduled to be released in theaters on March 20, 2020. Listen to Jeremy share his testimony and the hit song that inspired the film
jeremy-camp

19409 views

2019-07-15T15:04:00

source: I Still Believe Christian artist Jeremy Camp shares the story behind the powerful new movie based on his life, titled 'I Still Believe.'

Jeremy lost his first wife to cancer, but she left a legacy that continues to inspire and bring others to Christ. While grappling with her death, the Christian artist penned his hit song, 'I Still Believe.'

"Scattered words and empty thoughts
Seem to pour from my heart
I've never felt so torn before
Seems I don't know where to start
But it's now that I feel Your grace falls like rain
From every fingertip, washing away my pain"

The movie will follow Jeremy's upbringing and the impact of his first wife's death on his career and walk with God. The film features the same production team who made the 2018 hit Christian film, 'I Can Only Imagine' starring Dennis Quaid that shared the story behind MercyMe's song with the same name.

Actor KJ Apa, of the TV show Riverdale, will star as Jeremy Camp in the film. Forrest Gump actor Gary Sinise is also set to star, and Shania Twain will star as Jeremy's mother.

"I still believe in Your faithfulness
I still believe in Your truth
I still believe in Your holy word
Even when I don't see, I still believe"

The 'I Still Believe' film is scheduled to be released in theaters on March 20, 2020. Listen to Jeremy share his testimony and the hit song that inspired the film
Today's Devotional
A Prayer for When the World Makes You Anxious - Your Daily Prayer - March 30
Top Artists