'Glory To His Name' From Mark Lowry And Brother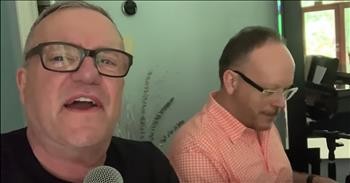 Popular Christian singer and songwriter Mark Lowry performs a rendition of 'Glory To His Name.' This classic hymn is a favorite to so many and the lyrics truly remind us all of the power of God's name.

"Down at the cross where my Savior died,
Down where for cleansing from sin I cried,
There to my sin was the blood applied;
Glory to His name!"
Mark Lowry is well known for penning the modern-day Christmas hit 'Mary, Did You Know?" For decades, he's been a staple in the Christian music scene and even performed with The Gaither Vocal Band. Today, he continues to use his talents to give praise to our Lord through son.
'Glory To His Name' is one of those hymns that has a way of making you sing along. Once the music starts, you can truly feel His strength and love wash over you. There is hope and grace within the Lord and He is always ready to guide us back home.
"Glory to His name,
Glory to His name;
There to my sin was the blood applied;
Glory to His name!"
Psalm 150:1-5 "1 Praise the LORD.Praise God in his sanctuary; praise him in his mighty heavens. 2 Praise him for his acts of power; praise him for his surpassing greatness. 3 Praise him with the sounding of the trumpet, praise him with the harp and lyre, 4 praise him with timbrel and dancing, praise him with the strings and pipe, 5 praise him with the clash of cymbals, praise him with resounding cymbals."
mark-lowry

1446 views

2019-05-28T10:29:13

source: Mark Lowry Popular Christian singer and songwriter Mark Lowry performs a rendition of 'Glory To His Name.' This classic hymn is a favorite to so many and the lyrics truly remind us all of the power of God's name.

"Down at the cross where my Savior died,
Down where for cleansing from sin I cried,
There to my sin was the blood applied;
Glory to His name!"

Mark Lowry is well known for penning the modern-day Christmas hit 'Mary, Did You Know?" For decades, he's been a staple in the Christian music scene and even performed with The Gaither Vocal Band. Today, he continues to use his talents to give praise to our Lord through son.

'Glory To His Name' is one of those hymns that has a way of making you sing along. Once the music starts, you can truly feel His strength and love wash over you. There is hope and grace within the Lord and He is always ready to guide us back home.

"Glory to His name,
Glory to His name;
There to my sin was the blood applied;
Glory to His name!"

Psalm 150:1-5 "1 Praise the LORD.Praise God in his sanctuary; praise him in his mighty heavens. 2 Praise him for his acts of power; praise him for his surpassing greatness. 3 Praise him with the sounding of the trumpet, praise him with the harp and lyre, 4 praise him with timbrel and dancing, praise him with the strings and pipe, 5 praise him with the clash of cymbals, praise him with resounding cymbals."

Today's Devotional
A Prayer for When Time Doesn't Heal a Broken Heart - Your Daily Prayer - July 2
Top Artists