Mom Sings 'Good Good Father' To Baby Boy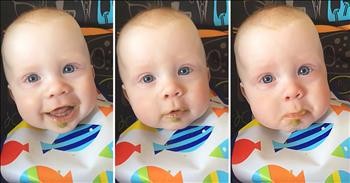 Baby Leland absolutely loves when his momma sings to him. And when she started to sing Chris Tomlin's worship hit 'Good Good Father' to him, this baby boy couldn't help but be overwhelmed by the Spirit.

I can hardly blame him. This amazing song has touched hearts all over the world and it moved me the very first time I heard it.
"You're a good good Father, It's who you are, it's who you are, it's who you are, And I'm loved by you, It's who I am, it's who I am, it's who I am"
Babies have such strong reactions to music, and their bonds to their mothers are so intense. Often, when Mom talks or sings, the little ones will contort their bodies to be able to see her. They just want to absorb everything about Mom.
Babies often know what she's feeling before anyone else. It's obvious that this adorable little guy truly loves his Mom and listening to her beautiful voice. We were smiling all the way along with Baby Leland while he was enjoying his mealtime and Mom singing.
Wanting to capture this special moment in Leland's life, Mom started recording as she sang a popular worship song by Chris Tomlin, "Good Good Father" to her adorable boy. This song practically moves us to tears every time we sing it in church. Clearly, Leland too was overwhelmed with emotion as Mom continued to sing into the bridge of the song:
"Because you are perfect in all of your ways, You are perfect in all of your ways, You are perfect in all of your ways to us"
That's when we slowly see this cute little guy's eyes begin to well up with tears. It wasn't long before Leland's sweet smile was replaced with moving emotion. He was completely focused on Mom as she sang, and while he may not understand the words, adorable Baby Leland was just as moved by this sweet worship refrain as the rest of us.
I just love that sweet look on his face and she sings the special words of this praise. No one wants to see a precious little one moved to tears, but Baby Leland's reaction is so
kidsarecute

74740 views

2016-01-18T16:05:00

source: Jennifer Vorpahl Baby Leland absolutely loves when his momma sings to him. And when she started to sing Chris Tomlin's worship hit 'Good Good Father' to him, this baby boy couldn't help but be overwhelmed by the Spirit.

I can hardly blame him. This amazing song has touched hearts all over the world and it moved me the very first time I heard it.

"You're a good good Father, It's who you are, it's who you are, it's who you are, And I'm loved by you, It's who I am, it's who I am, it's who I am"

Babies have such strong reactions to music, and their bonds to their mothers are so intense. Often, when Mom talks or sings, the little ones will contort their bodies to be able to see her. They just want to absorb everything about Mom.

Babies often know what she's feeling before anyone else. It's obvious that this adorable little guy truly loves his Mom and listening to her beautiful voice. We were smiling all the way along with Baby Leland while he was enjoying his mealtime and Mom singing.

Wanting to capture this special moment in Leland's life, Mom started recording as she sang a popular worship song by Chris Tomlin, "Good Good Father" to her adorable boy. This song practically moves us to tears every time we sing it in church. Clearly, Leland too was overwhelmed with emotion as Mom continued to sing into the bridge of the song:

"Because you are perfect in all of your ways, You are perfect in all of your ways, You are perfect in all of your ways to us"

That's when we slowly see this cute little guy's eyes begin to well up with tears. It wasn't long before Leland's sweet smile was replaced with moving emotion. He was completely focused on Mom as she sang, and while he may not understand the words, adorable Baby Leland was just as moved by this sweet worship refrain as the rest of us.

I just love that sweet look on his face and she sings the special words of this praise. No one wants to see a precious little one moved to tears, but Baby Leland's reaction is so
Today's Devotional
A Prayer for Your Aging Parent - Your Daily Prayer - October 19
Top Artists