''Tis So Sweet to Trust in Jesus' Violin Performance From Taryn Harbridge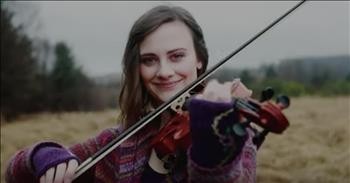 Talented violinist Taryn Harbridge reminds us that God is in control with this beautiful rendition of ''Tis So Sweet To Trust In Jesus.'

This iconic hymn has touched so many hearts all over the world and it continues to ring through today.
"'Tis so sweet to trust in Jesus,
Just to take Him at His Word
Just to rest upon His promise,
Just to know, "Thus saith the Lord!"
Louisa M. R. Stead wrote this iconic hymn after she experienced the terrible loss of her husband. He died tragically while attempting to save a young boy from drowning.
Despite the devastation, Louisa found comfort in her relationship with God. Today, Taryn Harbridge is playing 'Tis So Sweet To Trust In Jesus' and it's the perfect hymn for everyone to hear.
"Jesus, Jesus, how I trust Him!
How I've proved Him o'er and o'er
Jesus, Jesus, precious Jesus!
Oh, for grace to trust Him more!"
We are so blessed to serve such a loving and gracious Father in Heaven. Even when times may be hard, we can always find comfort in the arms of the Lord. Hand your worries over to Him and He will shoulder all of your burdens. Who else is so thankful for our Savior?
Psalm 37:4-6 "Delight yourself in the LORD, and he will give you the desires of your heart. Commit your way to the LORD; trust in him, and he will act. He will bring forth your righteousness as the light, and your justice as the noonday."
GodTube-Music

1159 views

2020-03-23T13:38:19

source: Taryn Harbridge Talented violinist Taryn Harbridge reminds us that God is in control with this beautiful rendition of ''Tis So Sweet To Trust In Jesus.'

This iconic hymn has touched so many hearts all over the world and it continues to ring through today.

"'Tis so sweet to trust in Jesus,
Just to take Him at His Word
Just to rest upon His promise,
Just to know, "Thus saith the Lord!"

Louisa M. R. Stead wrote this iconic hymn after she experienced the terrible loss of her husband. He died tragically while attempting to save a young boy from drowning.

Despite the devastation, Louisa found comfort in her relationship with God. Today, Taryn Harbridge is playing 'Tis So Sweet To Trust In Jesus' and it's the perfect hymn for everyone to hear.

"Jesus, Jesus, how I trust Him!
How I've proved Him o'er and o'er
Jesus, Jesus, precious Jesus!
Oh, for grace to trust Him more!"

We are so blessed to serve such a loving and gracious Father in Heaven. Even when times may be hard, we can always find comfort in the arms of the Lord. Hand your worries over to Him and He will shoulder all of your burdens. Who else is so thankful for our Savior?

Psalm 37:4-6 "Delight yourself in the LORD, and he will give you the desires of your heart. Commit your way to the LORD; trust in him, and he will act. He will bring forth your righteousness as the light, and your justice as the noonday."

Suggested For You
---
Related Videos
---
Today's Devotional
A Prayer for Strength to Endure - Your Daily Prayer - May 29
Top Artists