Sam's Club Line Turns Into Gospel Flash Mob As Shoppers Wait To Checkout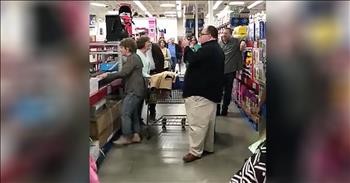 It was an inspiring moment captured on camera when this line of Sam's Club shoppers started a gospel flash mob in the middle of the store.

As the threat of the coronavirus increases, many people are venturing out to the grocery store to stock up on supplies and everyday essentials. With the unprecedented number of shoppers, many stores are experiencing shortages and extremely long lines.
This situation can create heightened tensions and altercations. But one Sam's Club showed the nation a brighter side of humanity when they all came together for a beautiful purpose.
While standing in line, the shoppers started to sing the words of gospel favorite "Awesome" from Charles Jenkins.
"My God is awesome
Heals me when I'm broken
Gives strength where I've been weakened
Forever he will reign
My God is awesome, awesome, awesome, awesome
My God is awesome, awesome, awesome, awesome"
It was such an incredible moment to watch all of these strangers stand together to sing of the glory of our Lord. Michelle Holland Conner posted the video to Facebook saying, 'Sometimes you need a little church. Even if it's in Sam's Club.' And now, the clip has been viewed over 14 million times. This is the perfect reminder that God is in control each step of the way.
Psalm 37:4-6 "Delight yourself in the LORD, and he will give you the desires of your heart. Commit your way to the LORD; trust in him, and he will act. He will bring forth your righteousness as the light, and your justice as the noonday."
GodTube-Music

49288 views

2020-03-18T16:47:29

source: Michelle Holland Conner It was an inspiring moment captured on camera when this line of Sam's Club shoppers started a gospel flash mob in the middle of the store.

As the threat of the coronavirus increases, many people are venturing out to the grocery store to stock up on supplies and everyday essentials. With the unprecedented number of shoppers, many stores are experiencing shortages and extremely long lines.

This situation can create heightened tensions and altercations. But one Sam's Club showed the nation a brighter side of humanity when they all came together for a beautiful purpose.

While standing in line, the shoppers started to sing the words of gospel favorite "Awesome" from Charles Jenkins.

"My God is awesome
Heals me when I'm broken
Gives strength where I've been weakened
Forever he will reign
My God is awesome, awesome, awesome, awesome
My God is awesome, awesome, awesome, awesome"

It was such an incredible moment to watch all of these strangers stand together to sing of the glory of our Lord. Michelle Holland Conner posted the video to Facebook saying, 'Sometimes you need a little church. Even if it's in Sam's Club.' And now, the clip has been viewed over 14 million times. This is the perfect reminder that God is in control each step of the way.

Psalm 37:4-6 "Delight yourself in the LORD, and he will give you the desires of your heart. Commit your way to the LORD; trust in him, and he will act. He will bring forth your righteousness as the light, and your justice as the noonday."

Today's Devotional
A Prayer for the Filling of God's Power and Love - Your Daily Prayer - August 4
Top Artists