'O Holy NIght' 7-Year-Old Claire Crosby And Dad Duet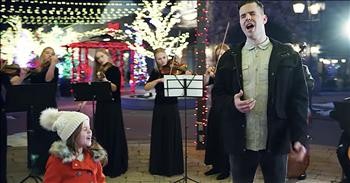 Viral sweetheart Claire Crosby is back with her dad for a beautiful performance of the classic Christmas song 'O Holy Night.' This incredible tune is sure to remind you of the real reason for the Christmas season.

"O holy night the stars are brightly shining
It is the night of our dear Savior's birth
Long lay the world in sin and error pining
Till He appeared and the soul felt its worth"
Claire and her dad, Dave, became instant Internet sensations after their adorable duet of 'You've Got A Friend In Me' was posted online. The video quickly went viral and millions of people all around the world fell in love with this precious daddy-daughter duo.
Since then, Claire has continued to sing and share her gift of performing. Claire and her dad have appeared on shows such as The Voice and The Ellen DeGeneres Show and she even has her own YouTube page.
Today, Claire is back with her dad and the rest of the family for this stunning rendition of 'O Holy Night.' Just listen as they belt out these beloved lyrics of praise to His Name.
"Fall on your knees
O hear the angels' voices
O night divine
O night when Christ was born
O night divine o night
O night divine"
What a beautiful performance from this sweet duo. Who else is singing along?
Luke 2:7 "And she gave birth to her firstborn, a son. She wrapped him in cloths and placed him in a manger, because there was no guest room available for them."
godtube-christmas

93150 views

2019-12-16T12:11:30

source: The Crosbys Viral sweetheart Claire Crosby is back with her dad for a beautiful performance of the classic Christmas song 'O Holy Night.' This incredible tune is sure to remind you of the real reason for the Christmas season.

"O holy night the stars are brightly shining
It is the night of our dear Savior's birth
Long lay the world in sin and error pining
Till He appeared and the soul felt its worth"

Claire and her dad, Dave, became instant Internet sensations after their adorable duet of 'You've Got A Friend In Me' was posted online. The video quickly went viral and millions of people all around the world fell in love with this precious daddy-daughter duo.

Since then, Claire has continued to sing and share her gift of performing. Claire and her dad have appeared on shows such as The Voice and The Ellen DeGeneres Show and she even has her own YouTube page.

Today, Claire is back with her dad and the rest of the family for this stunning rendition of 'O Holy Night.' Just listen as they belt out these beloved lyrics of praise to His Name.

"Fall on your knees
O hear the angels' voices
O night divine
O night when Christ was born
O night divine o night
O night divine"

What a beautiful performance from this sweet duo. Who else is singing along?

Luke 2:7 "And she gave birth to her firstborn, a son. She wrapped him in cloths and placed him in a manger, because there was no guest room available for them."

Today's Devotional
A Prayer for When Others Have What You Want - Your Daily Prayer - February 23
Top Artists