Powerful Performance of 'Hallelujah' by Bon Jovi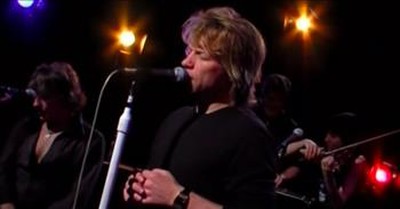 Check out this powerful performance of superstar Bon Jovi singing an incredible cover of the classic song 'Hallelujah' by Leonard Cohen.

"I'd heard there was a secret chord that David played and it pleased the Lord
But you don't really care for music, do you? Well, it goes like this, the fourth, the fifth,
The minor fall, the major lift, the baffled king composing Hallelujah
Hallelujah, Hallelujah, Hallelujah, Hallelujah"
The pairing of Bon Jovi's powerful and distinguishable voice with these beautiful lyrics are just wonderful. And the added violin parts in this performance make it sound so magical.
"Finally! I've been searching for the perfect version of this song and I finally found it," comments one person on YouTube after watching this music video.
"Leonard Cohen would be proud. This version is understated and beautifully sung, just the way it was meant to be," writes another person on YouTube. "Bon Jovi isn't over-singing it or going for the power notes or using it to show his vocal range like so many artists who cover this song. It's my second favorite, next to the master himself, Leonard Cohen. Wow!"
What a moving performance! We hope you enjoyed it, and it was able to brighten your day!
Matthew 28:16-20
Now the eleven disciples went to Galilee, to the mountain to which Jesus had directed them. And when they saw him they worshiped him, but some doubted. And Jesus came and said to them, "All authority in heaven and on earth has been given to me. Go therefore and make disciples of all nations, baptizing them in the name of the Father and of the Son and of the Holy Spirit, teaching them to observe all that I have commanded you. And behold, I am with you always, to the end of the age."
djbeats

1083732 views

2014-04-15T20:51:00

Check out this powerful performance of superstar Bon Jovi singing an incredible cover of the classic song 'Hallelujah' by Leonard Cohen.

"I'd heard there was a secret chord that David played and it pleased the Lord
But you don't really care for music, do you? Well, it goes like this, the fourth, the fifth,
The minor fall, the major lift, the baffled king composing Hallelujah
Hallelujah, Hallelujah, Hallelujah, Hallelujah"

The pairing of Bon Jovi's powerful and distinguishable voice with these beautiful lyrics are just wonderful. And the added violin parts in this performance make it sound so magical.

"Finally! I've been searching for the perfect version of this song and I finally found it," comments one person on YouTube after watching this music video.

"Leonard Cohen would be proud. This version is understated and beautifully sung, just the way it was meant to be," writes another person on YouTube. "Bon Jovi isn't over-singing it or going for the power notes or using it to show his vocal range like so many artists who cover this song. It's my second favorite, next to the master himself, Leonard Cohen. Wow!"

What a moving performance! We hope you enjoyed it, and it was able to brighten your day!

Matthew 28:16-20
Now the eleven disciples went to Galilee, to the mountain to which Jesus had directed them. And when they saw him they worshiped him, but some doubted. And Jesus came and said to them, "All authority in heaven and on earth has been given to me. Go therefore and make disciples of all nations, baptizing them in the name of the Father and of the Son and of the Holy Spirit, teaching them to observe all that I have commanded you. And behold, I am with you always, to the end of the age."

Today's Devotional
A Prayer to Remember That Joy Is a Way of Life - Your Daily Prayer - May 21
The Bible commands us, "be joyful aways!"
Top Artists
Top Music Videos