Social Network Christmas - IgniterMedia.com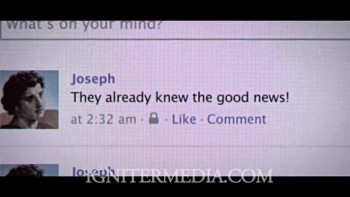 Buy Now: http://www.ignitermedia.com/mini-movies/1905/A-Social-Network-Christmas

This video is an artistic take on how the story of the nativity might have read had a social network existed at the time of Jesus's birth. Follow this historical period
as it unfolds as a digital narrative. This vignette is great for highlighting the truths and circumstances of our Savior's birth in a fresh, unique way.
Today's Devotional
A Prayer for Shepherding Your Flock - Your Daily Prayer - April 20
Let's pray now for our calling as shepherds, and for the sheep entrusted to our care.
Top Artists
Top Music Videos
Christian News
The latest news and hot topics trending among Christian music, entertainment and faith life.