Social Network Christmas - IgniterMedia.com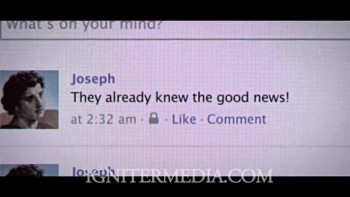 Buy Now: http://www.ignitermedia.com/mini-movies/1905/A-Social-Network-Christmas

This video is an artistic take on how the story of the nativity might have read had a social network existed at the time of Jesus's birth. Follow this historical period
as it unfolds as a digital narrative. This vignette is great for highlighting the truths and circumstances of our Savior's birth in a fresh, unique way.
Today's Devotional
A Prayer for Using Your Spiritual Gifts - Your Daily Prayer - October 20Any time you take a chance, you can fail. But it's better to try than to never have anything happen in your life.
Top Artists