This Is Footage Of A Real Angel In The Sky!! "Must See Video"!!!!!!!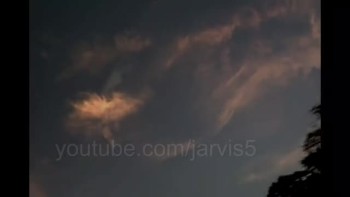 (Keep Watching/Watch whole video To See The Amazing Images In The Sky, Angels and more!!!!) Go to www.youtube.com/jarvisevans5 for extended version! I recorded this 10/4/2010 and was amazed and in awe for the vision God showed me on this day. I can see

angels and more! Take a look and see for yourself! God gave me this Gift and I'm giving it to the world and to my parents as a Anniversary gift of love! Sharing the gospel of my God Almighty! My spiritual gifts are of many and one of my favorites is the gift
of vision! Acts 2:17 "In the last days, God says, I will pour out my Spirit on all people. Your sons and daughters will prophesy, your young men will see visions, your old men will dream dreams." There are many things in this picture, just take a look within!
------------------------------- Follow Jarvis Evans on Twitter: www.twitter.com/jarvisevans5 www.jarvisevans.com www.jarvisevansworldwide.com
Embed

jarvisevans5

470620 views

2011-02-21T02:00:36

(Keep Watching/Watch whole video To See The Amazing Images In The Sky, Angels and more!!!!) Go to www.youtube.com/jarvisevans5 for extended version! I recorded this 10/4/2010 and was amazed and in awe for the vision God showed me on this day. I can see
angels and more! Take a look and see for yourself! God gave me this Gift and I'm giving it to the world and to my parents as a Anniversary gift of love! Sharing the gospel of my God Almighty! My spiritual gifts are of many and one of my favorites is the gift
of vision! Acts 2:17 "In the last days, God says, I will pour out my Spirit on all people. Your sons and daughters will prophesy, your young men will see visions, your old men will dream dreams." There are many things in this picture, just take a look within!
------------------------------- Follow Jarvis Evans on Twitter: www.twitter.com/jarvisevans5 www.jarvisevans.com www.jarvisevansworldwide.com
Suggested For You
---
Related Videos
---
Today's Devotional
A Prayer to Help Your Kids Love God's Word - Your Daily Prayer - July 5
Top Artists