Danny Gokey Shares Moving I Am Second Testimony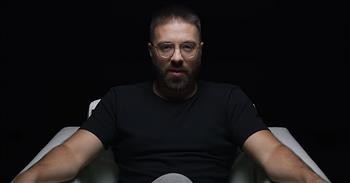 Former American Idol contestant Danny Gokey shares how Christ led him from the bouts of depression to give him a greater purpose.

Danny grew up in a Christian household and felt that he had a solid foundation of faith. But his entire belief system was put into question when his first wife passed away from a congenital heart disease. "I literally felt in my heart, like, God's mad at me."
Danny's wife was a huge American Idol fan and a month after her death, Danny decided to try out for the show. "I remember standing in those lines. I remember tears falling down my eyes because one moment I was happy and excited thinking this could be a possibility where something good could happen. But the other thing inside of me was 'How am I gonna live life, this new chapter, without her?'"
After making it through to Hollywood, Danny remembered a crippling sense of anxiety that left him feeling lost and losing sleep. He remembers a vivid dream about his late wife and said, "I saw myself hanging onto her casket. I saw myself being buried with her."
After a life-changing revelation, Danny learned to hand over his worries to God. Ultimately, he finished third in the competition but his impact was felt all over the country. Countless people wrote in to Danny to tell him how his story touched or saved their lives.
Now, this Christian artist is committed to sharing the Word of God with the world and letting them know that God's in control. "As a young kid, I didn't believe that Christ was enough. I believed it was Christ plus now I've gotta do X, Y, and Z. One of the most profound things that I've learned in my walk with Christ is that He is enough."
danny-gokey

2477 views

2020-02-20T15:25:18

source: Danny Gokey Former American Idol contestant Danny Gokey shares how Christ led him from the bouts of depression to give him a greater purpose.

Danny grew up in a Christian household and felt that he had a solid foundation of faith. But his entire belief system was put into question when his first wife passed away from a congenital heart disease. "I literally felt in my heart, like, God's mad at me."

Danny's wife was a huge American Idol fan and a month after her death, Danny decided to try out for the show. "I remember standing in those lines. I remember tears falling down my eyes because one moment I was happy and excited thinking this could be a possibility where something good could happen. But the other thing inside of me was 'How am I gonna live life, this new chapter, without her?'"

After making it through to Hollywood, Danny remembered a crippling sense of anxiety that left him feeling lost and losing sleep. He remembers a vivid dream about his late wife and said, "I saw myself hanging onto her casket. I saw myself being buried with her."

After a life-changing revelation, Danny learned to hand over his worries to God. Ultimately, he finished third in the competition but his impact was felt all over the country. Countless people wrote in to Danny to tell him how his story touched or saved their lives.

Now, this Christian artist is committed to sharing the Word of God with the world and letting them know that God's in control. "As a young kid, I didn't believe that Christ was enough. I believed it was Christ plus now I've gotta do X, Y, and Z. One of the most profound things that I've learned in my walk with Christ is that He is enough."
Suggested For You
---
Related Videos
---
Today's Devotional
A Prayer for When You Don't Know What to Do - Your Daily Prayer - June 1
Top Artists