2 Sisters Sing Dolly Parton Classic 'Coat Of Many Colors'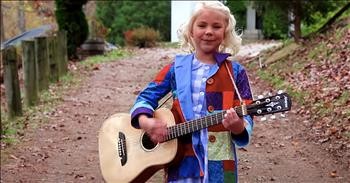 The talented siblings of The Detty Sisters perform a beautiful rendition of 'Coat Of Many Colors' from Dolly Parton.

This classic country song became a hit for Dolly back in 1968. It spoke about a treasured coat that a girl's mother sewed for her out of scrap pieces.
Even though the coat may look funny to some people, it was a priceless gift to this young girl.
"As she sewed, she told a story
From the Bible, she had read
About a coat of many colors
Joseph wore and then she said
Perhaps this coat will bring you
Good luck and happiness
And I just couldn't wait to wear it
And momma blessed it with a kiss"
The Detty Sisters are comprised of four country cuties from southern Ohio. Peyton, Cadie, Lily and Sophia have all been singing worship songs since a very young age. Both Peyton and Cadie would sing in church and it eventually transformed into playing other venues. The sibling group even released an album.
Today, the sisters are lending their voices to the iconic Dolly Parton song 'Coat Of Many Colors.'
"My coat of many colors
That my momma made for me
Made only from rags
But I wore it so proudly
Although we had no money
I was rich as I could be
In my coat of many colors
My momma made for me"
This song holds a special place for The Detty Sisters. They posted on YouTube about the importance behind the message in the song. "Although we may not all be rich, we have the opportunity to be rich in love with Jesus in our hearts. We hope this song blesses you as much as it did us to record it."
GodTube-Music

3421 views

2020-01-09T13:59:52

source: The Detty Sisters The talented siblings of The Detty Sisters perform a beautiful rendition of 'Coat Of Many Colors' from Dolly Parton.

This classic country song became a hit for Dolly back in 1968. It spoke about a treasured coat that a girl's mother sewed for her out of scrap pieces.

Even though the coat may look funny to some people, it was a priceless gift to this young girl.

"As she sewed, she told a story
From the Bible, she had read
About a coat of many colors
Joseph wore and then she said
Perhaps this coat will bring you
Good luck and happiness
And I just couldn't wait to wear it
And momma blessed it with a kiss"

The Detty Sisters are comprised of four country cuties from southern Ohio. Peyton, Cadie, Lily and Sophia have all been singing worship songs since a very young age. Both Peyton and Cadie would sing in church and it eventually transformed into playing other venues. The sibling group even released an album.

Today, the sisters are lending their voices to the iconic Dolly Parton song 'Coat Of Many Colors.'

"My coat of many colors
That my momma made for me
Made only from rags
But I wore it so proudly
Although we had no money
I was rich as I could be
In my coat of many colors
My momma made for me"

This song holds a special place for The Detty Sisters. They posted on YouTube about the importance behind the message in the song. "Although we may not all be rich, we have the opportunity to be rich in love with Jesus in our hearts. We hope this song blesses you as much as it did us to record it."

Today's Devotional
A Prayer for When You Are in the Desert - Your Daily Prayer - January 18
Top Artists