Doctors And Staff In Georgia Sing 'Way Maker' Over Hospital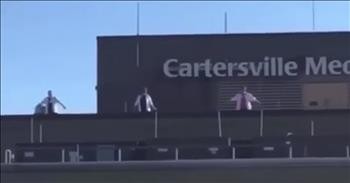 It was a moment of pure beauty when these doctors and staff belted out the words to 'Way Maker' at this Georgia hospital.

This powerful Christian tune was originally recorded by Nigerian gospel singer, Sinach. Contemporary Christian artist Michael W. Smith also released a version of the song, which helped propel it to greater popularity.
The words speak to the love and strength that comes from our Lord in Heaven.
"You are
Way maker, miracle worker, promise keeper
Light in the darkness, my God
That is who You are"
As our world grapples with the global pandemic of the Coronavirus, it can be hard to find the good. But when we do, it's an absolute blessing that must be shared. Today, a group of workers from a hospital in Cartersville, Georgia are worshipping the Lord from the rooftops with this powerful performance of 'Way Maker.' As the stand loud and proud on top of the building, you can feel the hope and joy of the Lord all around.
"You are here, touching every heart
I worship You
I worship You
You are here, healing every heart
I worship You
I worship You"
During these troubling times, it's so important to hold tight to our faith and remember that God is in control.
Isaiah 43:2 "When you pass through the waters, I will be with you; and when you pass through the rivers, they will not sweep over you. When you walk through the fire, you will not be burned; the flames will not set you ablaze."
Wow!!! Doctors & nurses singing Way Maker over their hospital in Cartersville, GA this past week. ❤️❤️❤️ #Repost @tanyarad with @get_repost ・・・ This video took my breath away - Doctors & nurses singing Way Maker over their hospital 🙏🏻 I'm choosing to find the light in this dark time because it brings me hope. Stay safe, stay home, & stay strong 💪🏻😘

Posted by Susan Langston Brooks on Saturday, March 28, 2020
GodTube-Music

11821 views

2020-03-31T12:56:38

source: Susan Langston Brooks It was a moment of pure beauty when these doctors and staff belted out the words to 'Way Maker' at this Georgia hospital.

This powerful Christian tune was originally recorded by Nigerian gospel singer, Sinach. Contemporary Christian artist Michael W. Smith also released a version of the song, which helped propel it to greater popularity.

The words speak to the love and strength that comes from our Lord in Heaven.

"You are
Way maker, miracle worker, promise keeper
Light in the darkness, my God
That is who You are"

As our world grapples with the global pandemic of the Coronavirus, it can be hard to find the good. But when we do, it's an absolute blessing that must be shared. Today, a group of workers from a hospital in Cartersville, Georgia are worshipping the Lord from the rooftops with this powerful performance of 'Way Maker.' As the stand loud and proud on top of the building, you can feel the hope and joy of the Lord all around.

"You are here, touching every heart
I worship You
I worship You
You are here, healing every heart
I worship You
I worship You"

During these troubling times, it's so important to hold tight to our faith and remember that God is in control.

Isaiah 43:2 "When you pass through the waters, I will be with you; and when you pass through the rivers, they will not sweep over you. When you walk through the fire, you will not be burned; the flames will not set you ablaze."

Today's Devotional
A Prayer for God's Presence - Your Daily Prayer - May 28
Top Artists