Today Host Hoda Kotb Shares Lessons She Learned On Maternity Leave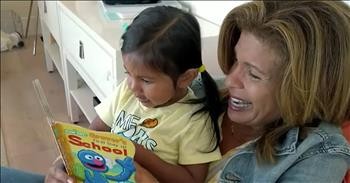 Today show host Hoda Kotb shares the sweet lessons that opened her eyes after returning to work from maternity leave.

For years, Hoda has been a staple on our TV's as the co-host of The Today Show's fourth hour. Recently, she was named as the co-anchor of the beloved morning show, alongside Savannah Guthrie.
Even though she was at the top of her career game, there was something missing in Hoda's personal life. That part was filled in February of 2017, when she adopted a baby girl named Haley Joy. Then, in April of 2019, Hoda added another girl into the mix with the adoption of Hope. "Just when you thought everything was to the max, Hope pops in and you see your heart's ability to expand. And now, I cannot imagine my life without both of those two little girls."
After spending a blissful five months on maternity leave, Hoda is back in the anchor seat sharing some of the highlights of her unforgettable summer. From walks to the park to simple songs and stories, Hoda vowed to not miss a moment. And it truly taught the talented anchor what really matters. "Having this moment in life, at this time in my life, does kind of snap the world into focus. I have my North stars. Two of them."
Hoda reveled in the wonder of simple things such as escalators and pockets as she saw the world through a new set of eyes. And she has these important words for everyone to soak in. "In reality, life is a blink and you get this moment."
godtube-inspiration

594 views

2019-09-10T15:50:00

source: TODAY Today show host Hoda Kotb shares the sweet lessons that opened her eyes after returning to work from maternity leave.

For years, Hoda has been a staple on our TV's as the co-host of The Today Show's fourth hour. Recently, she was named as the co-anchor of the beloved morning show, alongside Savannah Guthrie.

Even though she was at the top of her career game, there was something missing in Hoda's personal life. That part was filled in February of 2017, when she adopted a baby girl named Haley Joy. Then, in April of 2019, Hoda added another girl into the mix with the adoption of Hope. "Just when you thought everything was to the max, Hope pops in and you see your heart's ability to expand. And now, I cannot imagine my life without both of those two little girls."

After spending a blissful five months on maternity leave, Hoda is back in the anchor seat sharing some of the highlights of her unforgettable summer. From walks to the park to simple songs and stories, Hoda vowed to not miss a moment. And it truly taught the talented anchor what really matters. "Having this moment in life, at this time in my life, does kind of snap the world into focus. I have my North stars. Two of them."

Hoda reveled in the wonder of simple things such as escalators and pockets as she saw the world through a new set of eyes. And she has these important words for everyone to soak in. "In reality, life is a blink and you get this moment."
Suggested For You
---
Related Videos
---
Today's Devotional
A Prayer for Forgiving Others - Your Daily Prayer - May 26
Top Artists