Doctors Said He Was Dying But God Sent Adam York A Miracle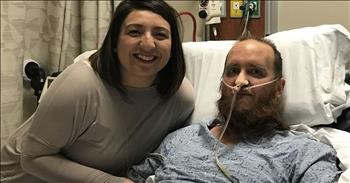 If there is one thing we know, it's that God often has different plans for us than the world may think! Last Christmas, Adam York celebrated with family before being hit with flu symptoms. Days later he was on life support. Doctors said he was going to die, but God sent Adam York a miracle!

Adam rarely got sick and never received a flu shot. When his symptoms began, his family never expected to see their loved one slip into a coma for two months. When he first entered the hospital, Adam's flu had turned to viral pneumonia; his lungs were filling with fluid. None of the doctor's treatments were working and he was on 100% oxygen.
Felicia York, Adam's wife shared "It got really bad. They were telling me 'there's nothing else we can do.' We were watching his oxygen levels drop, drop, drop." When the doctors were determined that there was nothing more they could do and that Adam's passing was imminent, Felicia turned to the Father for help.
"I prayed," Felicia said. "I stayed there two hours by his bed praying."
His doctor tried again to draw fluid off of his lungs. After previous attempts there wasn't much hope, but this time they were miraculously successful. Adam began to recover shortly after that with full brain function. The hospital staff were shocked.
"One of my doctors came in and he had told me he didn't believe in miracles but he came in the room and said 'I don't know what that means to you, but you're a miracle,'" Adam said. "A lot of crazy things that shouldn't have happened – did."
Adam's story didn't end there. As a result of the trauma his body went through, he was paralyzed. But his family kept on praying and Adam miraculously recovered over time and is now able to walk with light assistance. Because of their experiences, Adam and Felicia are now pursuing career changes into the nursing field so that they can be a blessing to others in need. "I'd say God first, prayer second, doctors third," Adam shared about his recovery. "The doctors and the nurses – none of them have an explanation for why I'm alive."
godtube-inspiration

1637 views

2018-11-19T16:30:27

source: abc3340 If there is one thing we know, it's that God often has different plans for us than the world may think! Last Christmas, Adam York celebrated with family before being hit with flu symptoms. Days later he was on life support. Doctors said he was going to die, but God sent Adam York a miracle!

Adam rarely got sick and never received a flu shot. When his symptoms began, his family never expected to see their loved one slip into a coma for two months. When he first entered the hospital, Adam's flu had turned to viral pneumonia; his lungs were filling with fluid. None of the doctor's treatments were working and he was on 100% oxygen.

Felicia York, Adam's wife shared "It got really bad. They were telling me 'there's nothing else we can do.' We were watching his oxygen levels drop, drop, drop." When the doctors were determined that there was nothing more they could do and that Adam's passing was imminent, Felicia turned to the Father for help.

"I prayed," Felicia said. "I stayed there two hours by his bed praying."

His doctor tried again to draw fluid off of his lungs. After previous attempts there wasn't much hope, but this time they were miraculously successful. Adam began to recover shortly after that with full brain function. The hospital staff were shocked.

"One of my doctors came in and he had told me he didn't believe in miracles but he came in the room and said 'I don't know what that means to you, but you're a miracle,'" Adam said. "A lot of crazy things that shouldn't have happened – did."

Adam's story didn't end there. As a result of the trauma his body went through, he was paralyzed. But his family kept on praying and Adam miraculously recovered over time and is now able to walk with light assistance. Because of their experiences, Adam and Felicia are now pursuing career changes into the nursing field so that they can be a blessing to others in need. "I'd say God first, prayer second, doctors third," Adam shared about his recovery. "The doctors and the nurses – none of them have an explanation for why I'm alive."
Today's Devotional
A Prayer to Overcome Evil - Your Daily Prayer - February 20, 2019
Top Artists